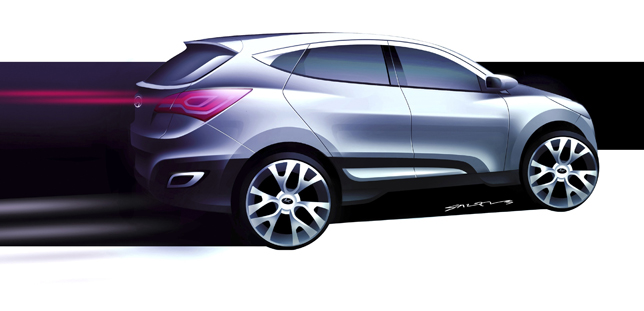 Ahead of its Geneva Motor Show launch, Hyundai has released a rendering of the HED-6, a new crossover SUV that, the automaker says, previews an "entirely new look to Hyundai's SUV lineup." The HED-6 Concept, which will preview the replacement for the Tucson SUV, is expected to be called the iX35 in Europe. This concept has been styled at the company's European Design headquarters in Rüsselsheim, Germany.
Codenamed the HED-6, and dubbed an "urban nomad" and a "car of contrast for a world of contrast", Hyundai says inspiration for the new concept came from cultural cities such as Berlin, Paris and London. The dramatic exterior features a blend of muscular curves and sharp angular lines which helps to create an impressive appearance. Other key aspects of the HED-6's design include back-swept front headlights, a hexagonal grille, 21-inch mirror-polished alloy wheels, and a special three-dimensional rear window that is made from high-performance plastic instead of traditional glass.
This concept is a clear indication of the direction which Hyundai will take with its next generation of SUVs. According to Hyundai, the design team has combined a muscular design with everyday utility to create a car which will fit comfortably in an urban or off-road environment.
The HED-6 also reportedly marks the introduction of LED day time running lights into the Hyundai range as a trademark feature of the new concept.
Powering the new concept is a  1.6-litre GDi turbocharged engine which develops a rather healthy 130kW (175 Bhp).
Allan Rushforth, Vice President at Hyundai Motor Europe said, "The HED-6 brings an entirely new look to Hyundai's SUV line-up. It fuses a robust exterior with a fresh and elegant interior, making for an eye-catching package, while its latest-generation power train highlights Hyundai's clean-technology expertise."
Also read: 2010 Hyundai Tucson spied
Source: Automobiles Review