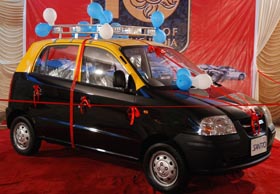 Hyundai Santro taxi version was launched today at Modi Hyundai dealership in Mumbai which follows the State Government's order of phasing-out nearly 7,500 ageing Premier Padminis.
Mumbai has about 50,000 black and yellow Premier Padmini taxis, 90% of which have been around for atleast 20 long years. Going by the decision taken by the Taxi and Autorickshaw Welfare Sangh of Mumbai, more than 30 Santro Taxis will start plying this month. As a compliment, Hyundai proposes to sell around 1,250 Santro taxis by Dec '09 out of which 500 will be equipped with Air-Conditioners.
The black and yellow Hyundai Santro taxi costs Rs. 2,42,500, and will be sold only in Mumbai.