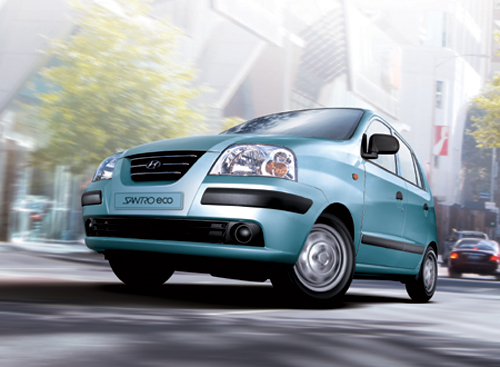 Hyundai's boxy yet once best selling car, the Santro Xing, which was sidelined after their next gen hatchback 'i10' was launched, seems to be back in action.
The Hyundai Santro sales figures have risen to an extent that, Hyundai is now looking to generate almost equal numbers from both, the Santro and the 'i10', in 2009. This comes at a time when manufacturers are cutting production and processing pink slips to their staff.
HS Lheem, Managing Director, Hyundai Motor India, said, "The Santro is doing much better than our expectations. In 2009, we are looking at almost the same overall sales number as last year or around 2.3 lakh units. Of this, Santro and 'i10' are expected to contribute 85,000 units each."
Hyundai Santro, i10 expected to contribute 85,000 units each
In December, the Santro overtook i10 sales for the first time since the i10 launch, after Hyundai announced a discount scheme where the Santro was offered at a decade-old price. Dealers point out that though the 'i10' is more in vogue because of its contemporary styling and superior Kappa engine technology, Santro sales however is mainly due to its low price.
On an average, the Santro sold 7,500-8,000 units a month in 2008 against about 10,000 units of the i10. Due to good sales of both its small cars, Hyundai has a good presence in the hatchback segment. A similar strategy has been used for the 'Accent' and 'Verna' sedans where again, the new entrant Verna was expected to cannibalize the Accent but the latter has been holding on. Together, in this segment, Hyundai has a combined monthly sales of 4,000-4,700 units.
Apart from these, Hyundai on Thursday launched an upgraded/facelifted version of its luxury sedan Sonata, called Sonata Transform. Hyundai expects to gain 1/8th of the sales in luxury car segment, with the release if the Sonata transform.
Source: DNA
Hyundai prepares diesel i20 and refreshed Verna- Exclusive Report
An insider from Hyundai has confirmed to Indian Autos Blog that a 1.4-liter diesel engine with around 95 horsepower will be available on the Hyundai i20 by the end of this year. When asked why the Getz hadn't performed to expectation, he said it was primarily due to absence in strong advertising and failure in pricing. The diesel version of the Getz uses a 1.6-liter engine borrowed from the Verna and comes at a stratospheric price tag.
The refreshed Hyundai Verna with new bumpers, lights and interiors, will arrive to the showrooms before May 2009. He added that the Santa Fe will be priced around the 20-lakh mark and will take on the CR-V and Outlander by the end of the year.