Regular Indian Autos Blog readers know that a new niche segment sandwiched between the entry level D and D+ segments is brewing in the Chinese car market.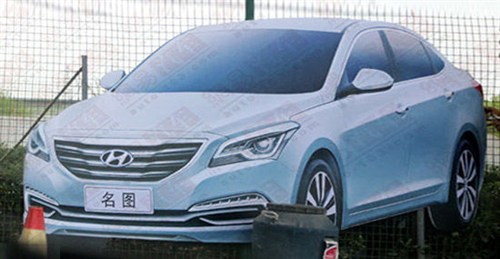 The Chinese car market is so big that even a niche segment could generate enough volumes for a car manufacturer. Honda and Hyundai are the early birds to have a shot at this new segment. While Honda's Concept C would slot between the Civic and the Accord, the Hyundai's contender will fill in the narrow gap that exists between the Elantra and the Sonata.
Here is a spy image of the car which is suspected to be a billboard located somewhere near Hyundai's stall at Auto Shanghai. The sedan which was earlier dubbed as Sonata Lite by the media is now officially named as Mingtu in Chinese.
The can looks like Hyundai's version of the Mercedes CLA with its smart, sleek and proportionate appearance. The front grill and the bumper takes cues from the Sonata while the new headlamp units get good attention to detail. The swooping roofline follows the trend.
The power train options are 1.8 litre and 2.0 litre petrol engines which are mated to either a 6-speed manual or an automatic transmission. The expected price range is 140,000 Yuan (around Rs. 12.24 lakhs) to 180,000 Yuan (around Rs. 15.74 lakhs).
The Hyundai Mingtu will be in attendance at the Auto Shanghai 2013 which starts this Saturday.
[Source: Auto.163.com]