In the times when the prices of petrol and diesel are on a surge, manufacturers are gradually but finally thinking seriously about bringing their products with alternative fuel technology. Due to this, the proper inception of the era of electric vehicles is finally happening and thanks to the massive popularity which SUVs are enjoying nowadays, automakers have started announcing the launch of electric SUVs. This step is only making SUVs eco-friendly and efficient – something which was not perceived in case of SUVs.
The initial players, in this case, happen to be two premium B-SUVs from two renowned players – Hyundai and MG. While Hyundai has already launched the much-awaited Kona Electric, making it the first-ever electric SUV of India, MG is not far behind and has already announced that the eZS electric SUV will be its second offering after the Hector in India. Both the SUVs will be initially sold in select cities of India, but they have a clear intent of paving the path of future mobility in the country.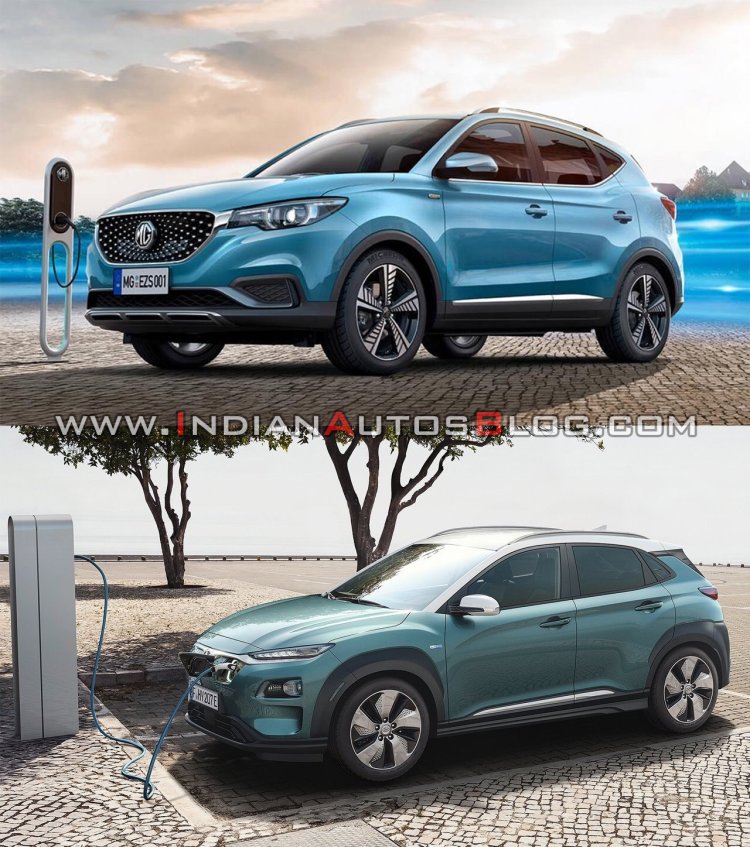 Despite falling in the same segment, both the SUVs differ a lot in the way they are packaged. What are the major differences? Let's find out:-
Design
Considering both the Hyundai Kona Electric and MG eZS are falling in the segment where looks and road presence matter the most, both the SUVs are designed in their own ways to look their part.
Starting with the Hyundai Kona Electric, it looks very offbeat, mainly because of two-tier front light setup and the clear visibility of the closed nose. It is designed in a typically European way that makes it look somewhat like a jacked-up hatchback or a crossover to be more precise. The profile is quite aggressive and rugged because of the noticeable black cladding in the lower body and the aerodynamically designed wheels look very sporty. However, the low height and the hatchback-like design of the greenhouse may not suit the taste of some. At the rear, the split-style tail lamps mimic the Composite Light feature seen at the front.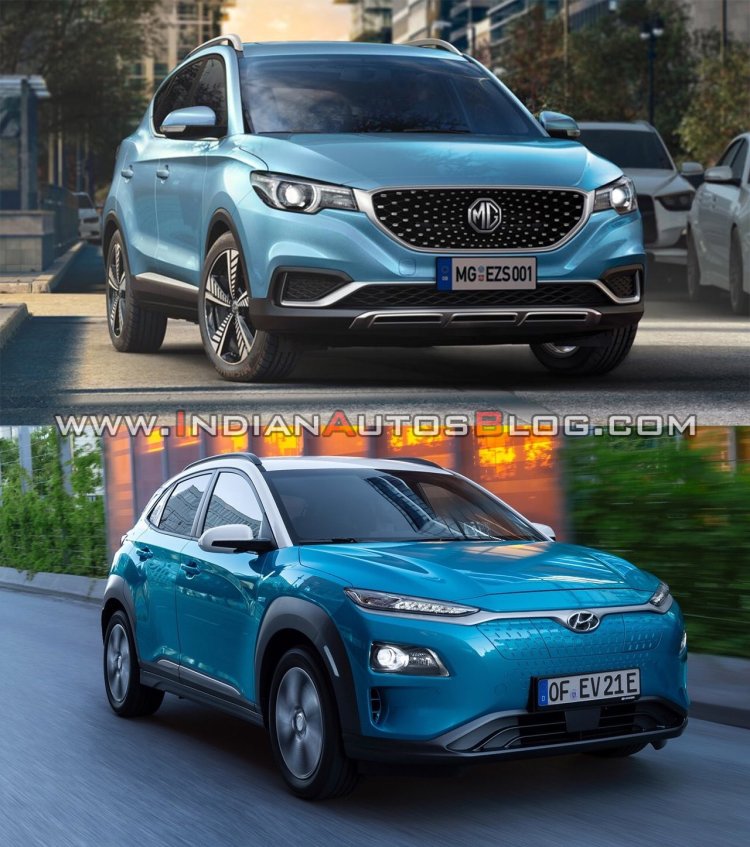 The MG eZS is not designed as radically as the Hyundai Kona Electric and looks much sober in comparison to the latter. Not just that, it doesn't look much different from a conventional SUV and may not even look like an EV until seen closely. Most of these works in its favour, as eco-friendly vehicles generally tend to have a quirky design.
On the inside, the Hyundai Kona Electric is undoubtedly more contemporary and uncluttered compared to the MG eZS. The dashboard, as well as centre console, looks much sportier and modern. The floating touchscreen infotainment system and the 7-inch driver information display make it look more technologically advanced.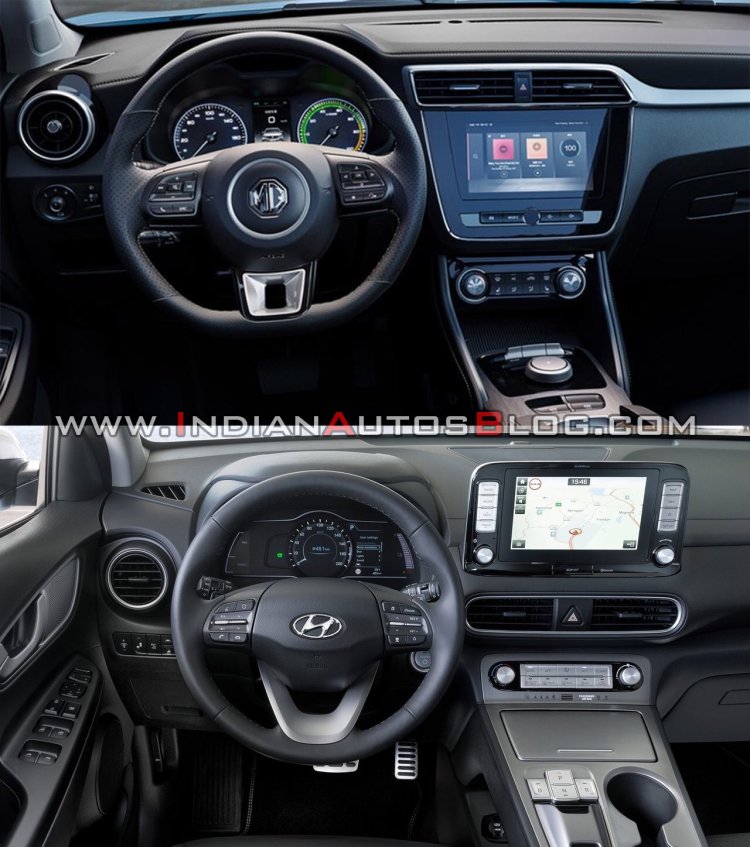 The MG eZS, in comparison, has a more conventional approach with a simpler design for the instrument console and centre console, which will appeal more to the mature set of audience. Also, due to bigger dimensions, its cabin is more spacious. While both the SUVs feature sturdy build quality, the panels and components in the Kona Electric are plusher and more premium.
Features
While Hyundai has over the years shown that it equips its cars with best in class features with many of them being the segment-firsts, MG, too, has shown with its recent products that it's following up with the latest in-car technologies and comfort creatures. Having said that, both the Hyundai Kona Electric as well as MG eZS have a number of features common to them.
Starting with the features which are common to both the Hyundai Kona Electric as well as MG eZS, things like full LED headlamps and tail lamps with daytime running LEDs, machined alloy wheels, side body cladding, roof rails, heated ORVMs, leather upholstery, electric sunroof, touch screen infotainment system, push-button start with keyless entry, cruise control, electrically adjustable driver's seat, electric parking brake, automatic climate control and cooled glove box can be found in both the SUVs.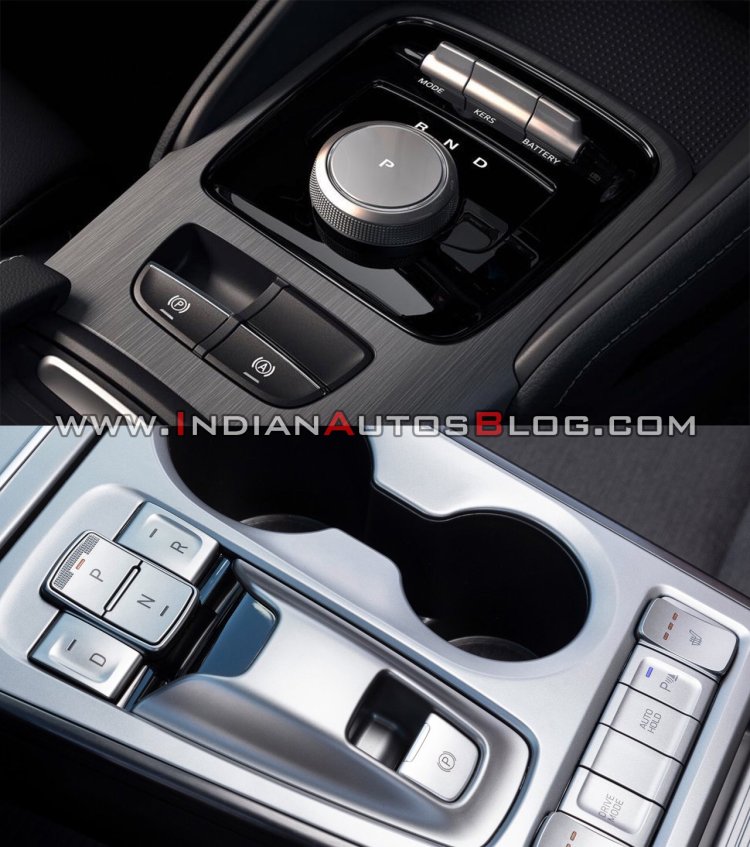 While Hyundai offers a couple of exclusive features like wireless charging as well as ventilated and heated front seats, MG, on the other hand, is expected to equip the eZS with the same connected vehicle technologies which it offers in the Hector.
Specifications
The Hyundai Kona Electric is 4,180 mm long, 1,800 mm wide and 1,570 mm tall (with roof rails). It has a 2,600 mm wheelbase. It is made in two mechanical configurations: short-range and long-range. The short-range configuration has a 100 kW (136 PS)/395 Nm electric motor and a 39.2 kWh battery pack that gives a range of 345 km (NEDC)/542 km (ARAI). This is the only configuration available in India. The long-range configuration includes a 150 kW (204 PS)/395 Nm electric motor and a 64 kWh battery pack that delivers a range of 557 km (NEDC).
Charging the 39.2 kWh battery pack up to 100% (using a standard charger)/80% (using a fast charger) takes approximately 6 hours 10 minutes/54 minutes. Charging the 64 kWh battery pack up to 100% (using a standard charger)/80% (using a fast charger) takes approximately 9 hours 35 minutes/54 minutes. The figures mentioned for fast charging are applicable to the international markets and on using a 100 kW fast charger. In the Indian-spec Hyundai Kona Electric short-range, 80% charging can be achieved in 57 minutes using a 50 kW fast charger.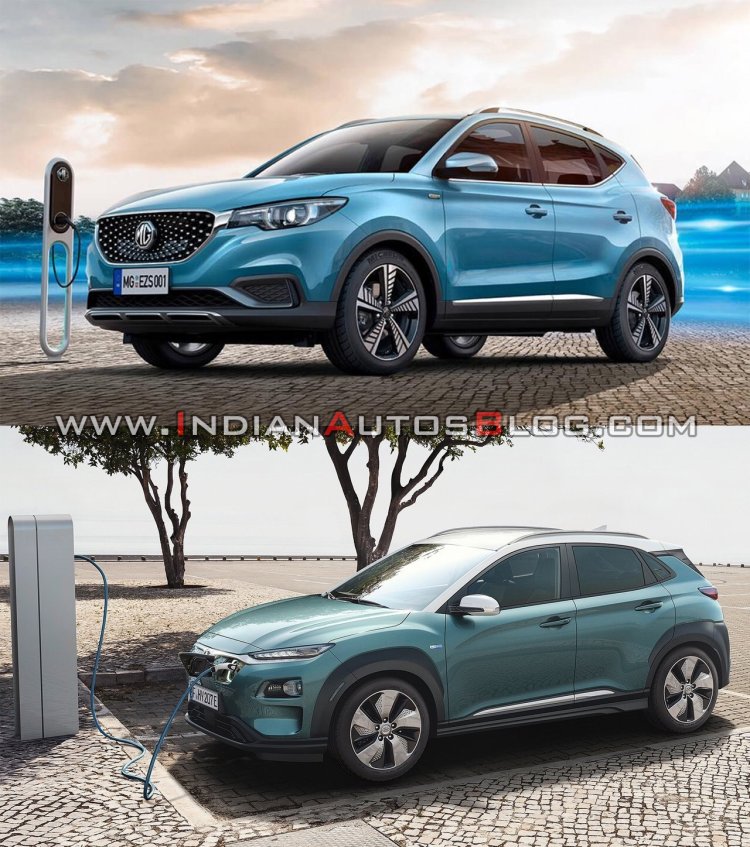 The MG eZS measures 4,314 mm in length, 1,809 mm in width and 1,620 mm/1,644 mm in height. Its wheelbase spans a length of 2,585 mm. Under the hood, there's an electric motor that generates 110 kW (150 PS) and 350 Nm of torque. A 44.5 kWh battery pack is standard and charging it up to 100% (using a standard charger)/80% (using a fast charger) takes 6.5 hours/30 minutes.
Pricing
The Hyundai Kona Electric is a locally assembled model. It has an introductory price of INR 25.30 lakh (ex-showroom India) and its sales are limited to 11 cities. The MG eZS will also be locally assembled. Scheduled to arrive towards the end of this calendar year, it will likely be priced below INR 25 lakh (ex-showroom) and be sold in 5 cities: Delhi, Ahmedabad, Bangalore, Hyderabad and Mumbai.