Hyundai is busy at work on the HA small car expected towards the end of 2011. There is heavy demand for cars costing between 2.5-3.5 lakh rupees and the 800cc hatchback will honor that need. Dressed in heavy camouflage one is still able to understand where the design inspiration trickles in from. We can expect the HA to look like a cross between the i10 and the Santro. Fluidic sculpture design interpretation will be seen, but not heavily.
We predict that alternate fuels will catch Hyundai's fancy as a diesel engine to power a car of this size is not available right now. LPG is a good idea due to its availability and popularity while CNG fuels will work well in select parts of the country.
Korean engineers worked closely with their Indian counterparts in Hyderabad for the last four years to develop the mini car. Production of the sub-i10 car could begin by the end of October at the Chennai plant (where the i10 is manufactured for the entire world) and prices may start as low as two lakh rupees for the basic model that lacks power steering, power windows and power locks. For the international markets, Hyundai can look at the 1-liter Kappa engine introduced recently on the European i10.
Hyundai's Santro is doing a good job and has stayed in the ten best selling cars of India for many years now but competition is fast approaching with options. Honda, Tata Motors, Maruti Suzuki, Nissan, Volkswagen and Skoda are all coming with their version of the Santro in the next three years. In that segment, the Maruti Suzuki Alto is the king with sales of 30k units every month.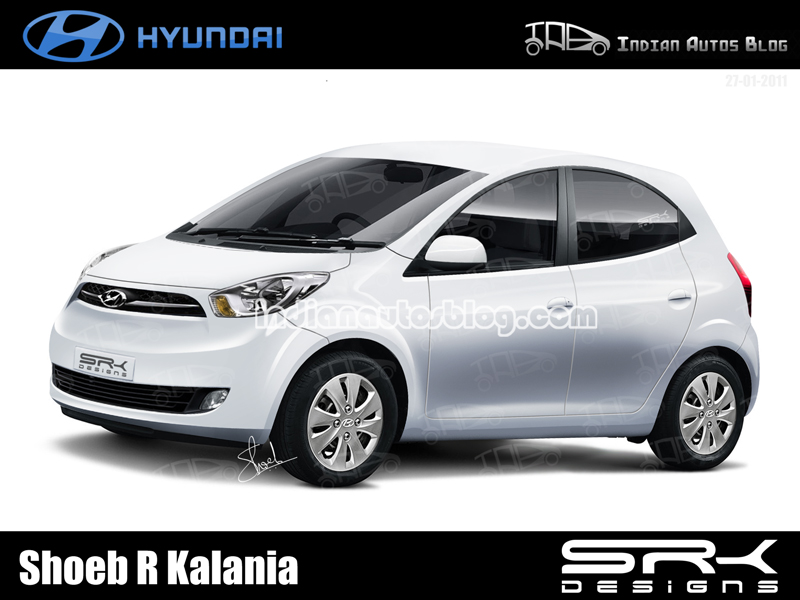 As this is a A-B car, there will be nothing fascinating or remarkable about its ride or handling. We are expecting to see a highly fuel economical car with good head and knee room for four well-build adults, boot space for two suitcases, and attractive price tag.
Also check out - Our expectations on the Hyundai HA
Source - hankyung.com