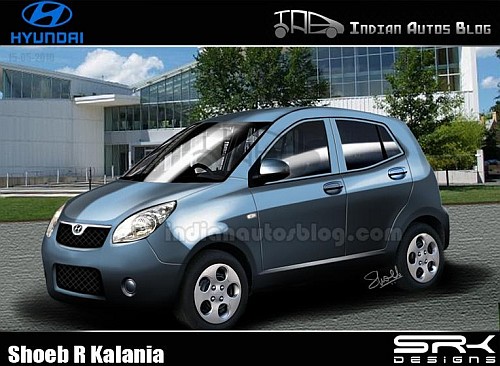 Hyundai Motors India Limited (HMIL) is developing a new small car that would be positioned under the Santro and we had brought you spyshots and renderings of the Hyundai H800 small car. We learn that Hyundai' small car is being designed by engineers at Hyundai's Engineering and Development Center in Hyderabad.
According to Hyundai, engineers in Hyderabad are working on over 180 parts for the small car and most of the designing has been carried out by Computer aided design (CAD) and Computer aided engineering (CAE).
Y.S. Roh, Managing Director, HMIL -
Over 400 engineers are engaged in the project. It will take about a year to complete the task.
Hyundai's Engineering and Development Center was established in 2009 and does a great deal of R & D work for Hyundai India. With localization of work for the development of its cars, Hyundai would be able to price its products very competitively.
The Hyundai H800 small car, which would come with a small 800cc engine, could be pitted against the Maruti Alto and would be priced between 2 - 2.5 lakh Rupees. Hyundai could be launching the new small car H800 at the 2012 Auto Expo at New Delhi.
Hyundai should be looking to produce 60,000 to 80,000 units of the new small car initially and then ramp up production if required.
Click here for Indian Autos Blog's exclusive rendering of the Hyundai H800 small car.
Source: Businessline