Over the last four weeks or so, IndianAutosBlog.com has been relentless in hunting down cars that are yet to reach the market. Our readers have received nothing short of spine-tingling material with exclusive shots of the new Camry, Innova facelift, Captiva facelift also in video, Jaguar XF facelift, Ford Fiesta automatic transmission, Tata Sumo Gold, Tata Indica XL and many more.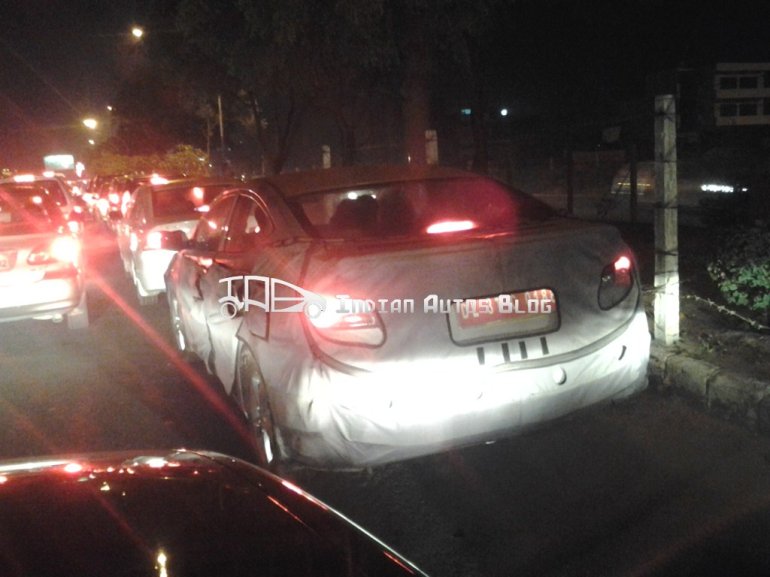 Continuing that habit of bringing exclusives, here's an image of the latest Hyundai Avante/Elantra, registered in Delhi, snapped on the DLF golf course road in Gurgaon by our reader Pushpinder Sahi. This is the first image of the on-test Elantra on Indian soil on the internet.
IndianAutosBlog.com readers have been updated very often on the Avante. It is Hyundai's answer to the Chevrolet Cruze, Toyota Corolla and Skoda Laura. It's slightly bigger than the Verna and uses the same design ideology. It also shares components with the Verna.
When asked on the launch plan of the Verna, Elantra and i45 last year at the Santa Fe launch, Hyundai India boss Mr HW Park without being specific told IndianAutosBlog.com that they "will bring it one by one" to India.
In the next couple of years we're going to see many new launches in this space. Ford is reportedly planning to bring in the C-Platform Focus to India and Honda has to update the Civic sooner or later. Skoda's next generation Laura is due to in 2013 and GM India is rumored to be working on improving the Cruze.
The Avante badly needs a diesel engine to give it a fair chance in India. Hyundai could use a more powerful form of the Verna's 1.6-liter or look at any other sub-two liter engine. Gas mileage is an aspect that cannot be ignored even in the C segment. The Avante needs a comfortable rear seat, a decent entertainment system and beige interiors to put a smile on the Indian customer.
Hyundai's in a different world altogether compared to the time when they unsuccessfully sold the previous generation Elantra. Since those forgettable days they've had blockbusters in the form of i20 and Verna. These have given them immense confidence to wade into less known waters.
Hyundai will not stop with the C-Segment as the D-Segment i45 looks ready for an early 2012 release.
Do you think the Fludic Elantra will kick sand into the eyes of the Cruze and Corolla?