Results of the J.D. Power Asia Pacific 2013 India Initial Quality Study (IQS) are now available. Here are the headlines -
New buyers choose to purchase vehicles with fewer initial quality problems.
Sales volumes of automakers that have quality above-industry-average initial quality have increased by an average of 6 percent since 2011.
Automakers whose customers report more quality problems than average have shown an 8 percent decline in sales during the same period.
Overall initial quality in India averages 115 PP100 (problems per 100 vehicles) in 2013, an improvement from 120 PP100 in 2012
HVAC is the only category with a year-over-year increase in the number of reported problems.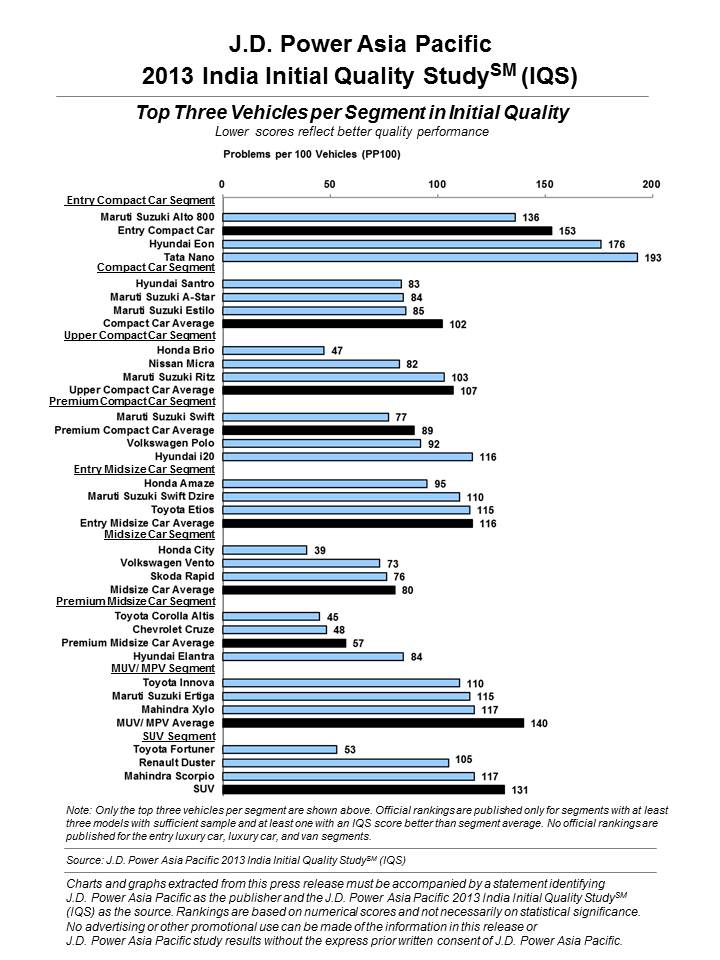 The study is based on evaluations from 9,070 owners who purchased a new vehicle between November 2012 and July 2013. It includes 74 models from 17 manufacturers, and was fielded between May-September 2013 in 25 cities across India. The study measures problems owners experience during the first two to six months.
The results of the study aren't breaking news: Honda and Toyota, each have three models that rank the highest in their respective segments, while Maruti have two. Basically, the competition for the top spot is among the Japanese brands only.
Among the 74 models, the Honda City boasts the best score, with only 39 PP100, followed by the Corolla Altis with 45 and the Honda Brio with 47. The detailed comparison chart is provided for your reference.
J.D. Power Asia Pacific 2013 India Initial Quality Study (IQS) Press Release
[Head to Slideshare if you're unable to view the document above.]