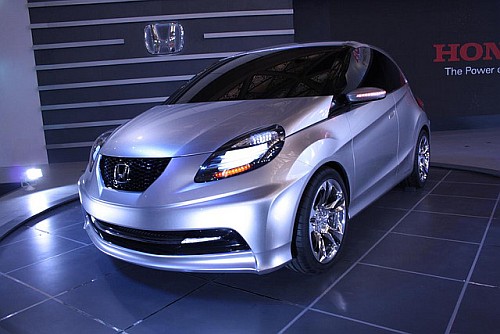 Gasgoo is reporting that Honda will introduce a new small car codenamed TIF in the Chinese market, Honda China president Seiji Kuraishi has revealed to the local media recently.
The TIF will get a 1.0 and 1.3-liter petrol engine and will be positioned in line with many of the small cars available today at attractive prices in the Chinese market (read - Chevy Sail, Nissan Micra,
The Honda TIF will cost about 4.12-5.48 lakh rupees, according to Gasgoo, which is a great alternative to the likes of the Micra.
According to sources, the TIF will have "most stylish looks, eye-catchy features and extremely user-friendly controls."
Now the question is - Is the TIF got anything to do with the Honda New Small Concept that was showcased at the Auto Expo? The car's codename is 2CV and it, according to sources, will be launched in India next year. The NSC could have a sedan variant and there has been no talk about a diesel engine under the 2CV's bonnet.
Could these two cars be the same? The 1.3-liter petrol engine will not make it eligible for small car benefits in India, so Honda might only launch the 1.0-liter, if at all the TIF is the 2CV.
Source - Gasgoo