Honda has started teasing the all new Honda CR-V on their official website.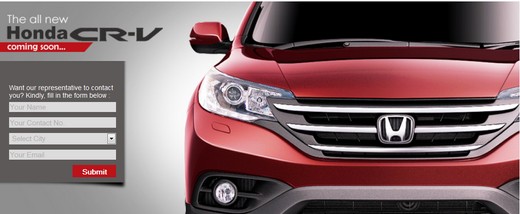 The new Honda CR-V is taking its own sweet time to enter India and the bad news is the new CR-V, like its predecessor will not offer diesel option. The petrol only Honda Civic has been put to rest due to lack of demand and the once popular Accord too faces the heat for not having a diesel engine.
While the petrol sedans are suffering this much, we wonder what would be the treatment the premium SUV buyers in India have in store for the CR-V, a petrol soft roader. Nevertheless, Honda is determined to bring the CR-V sans a diesel motor.
The CR-V's European lineup includes a 2.2 liter diesel engine but Honda thinks that the Indian diesel quality is unfit for the engine. The petrol engined CR-V has been spotted a few times while it was testing in India.
Honda India's official website has removed the old CR-V and instead started teasing the new CR-V which will be launched in February as Mr. Jnaneswar Sen, Senior vice-president, sales and marketing, Honda Cars India, has confirmed to Indian Autos Blog via an email.