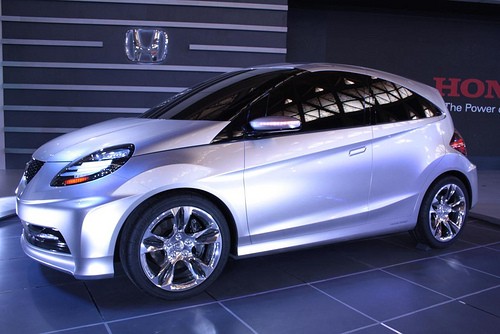 Honda's new small concept platform will spawn several variants
Take for instance the Tata Indica. It was born as a hatchback. A few years later, it was transformed into a sedan. Then it became a station wagon and then immediately, it greeted us as a limousine. It soon went back to being a sedan again, this time shorter and more powerful.
The Suzuki Swift, which always was supposed to stay as a sporty hatchback with great handling, was converted into a sedan. This happens/happened only in India.
Companies want to cash in on the demand for sedans in our country. Owning a sedan means you're well off. You have climbed one more step in the ladder which leads you to a Mercedes Benz.
According to a report in newspapers, Honda will introduce sedan version of New Small Concept (Codename - 2CV) in India. While Honda in India denies it, a regional head has spoken about it. He clearly states that the platform will not be left unused after the hatch enters production.
Fumihiko Ike, chief operating officer of regional operations, Asia Oceania, Honda Motor Company -
There will be multiple models coming out of the small car platform after its launch in 2011. We will explore a sedan, too, using the same platform to make maximum use of our resources.
This two-prong strategy is not new to Honda in India. The Jazz in truth is the hatchback and the City is its sedan version. Body panels and exterior components are not similar making the relationship not very obvious. Honda could dress the sedan version of the 2CV to make it appear like a completely different product. They could place it between the 2CV and the Honda Jazz as a mini-City.
Interesting, as the City itself is referred to as the mini Civic in other countries.
Honda New Small Concept Image Slideshow
visit the Honda New Small Concept Image Gallery if you can't see the Image Slideshow above