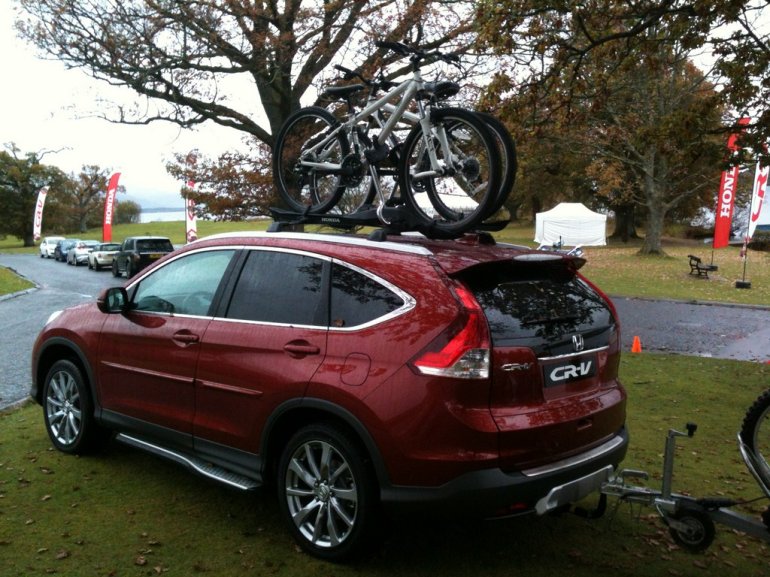 Honda launched the Honda CR-V soft roader in UK last week.
The popular Honda CR-V is into its fourth generation now and the car has already started testing in India. The new CR-V is lower and shorter than the previous model.
The car gets a completely new front fascia while the side and the rear are the evolution of the existing design. The interior quality of the car has been improved and the boot is now larger by 147 litres.
The new CR-V also has improved cabin refinement and the noise level in the cabin is said to reduced by 3 decibels. In order to achieve this, the airflow under the body has been streamlined by using flat floor pan.
The soft roader comes with security features like Vehicle Stability Assist, Lane keeping Assist and adaptive cruise control system. The colour of the speedometer turns from blue to green if the car is being driven economically.
The UK spec CR-V is powered a diesel and a petrol engine. The 2.2 litre i-DTEC diesel engine developes 150 PS and can accelerate from rest to 100 kmph in 9.7 seconds. The fuel economy of the engine stands at an impressive 13.3 kmpl, but sadly Honda won't bring the diesel engine to India perhaps due to the poor quality of Indian fuel.
The 2.0 litre i-VTEC petrol motor has a power output of 155 PS which will power the India bound CR-V as well. Both the engines are available with either a 6-speed manual or 5-speed automatic gearbox and an optional four wheel drive system.
[Pic courtesy: Tim Barnes-Clay, Freelance Motoring Journalist at Carwriteups.co.uk, Source: Thisisbristol.co.uk]