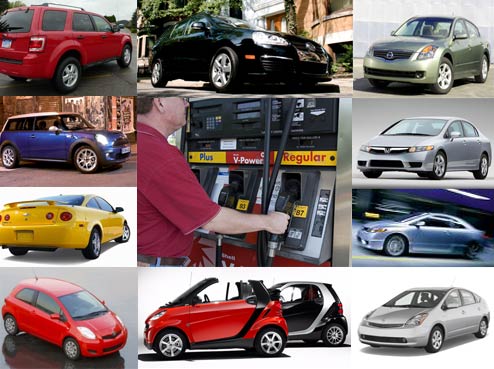 The Environmental Protection Agency just released their 2009 EPA Fuel Economy Guide and we've pored through the hot-off-the-presses data to pull out this list of the ten most fuel efficient cars. Not surprisingly, the Toyota Prius once again tops the list with a combined 48 mpg city/45 mpg highway performance. But, we're more interested about the cars on Indian roads that made it to the list, the Honda Civic Hybrid, VW Jetta and soon to be launched Honda Jazz.
Though hybrids take four of the top five spots, the Volkswagen Jetta/Jetta SportWagen Diesels cracked the top ten with a 30/41 mpg rating (they were the only diesel vehicles present).
The Ten Most Fuel Efficient Vehicles
By City (kpl):
1. Toyota Prius: 20.4
2. Honda Civic Hybrid: 17
3. Nissan Altima Hybrid: 14
4. Ford Escape/Mariner Hybrid 2WD: 14.45
5. Smart Fortwo: 14.02
Toyota Camry Hybrid: 14.02
7. Volkswagen Jetta/SportWagen Diesel: 12.75
8. Toyota Yaris: 12.325
9. Mini Cooper: 11.19
Honda Jazz: 11.19
By Highway (kpl):
1. Toyota Prius: 19.13
Honda Civic Hybrid: 19.13
3. Volkswagen Jetta/SportWagen Diesel: 17.43
Smart Fortwo: 17.43
5. Chevy Cobalt/Pontiac G5 XFE: 15.73
Mini Cooper: 15.73
7. Toyota Yaris: 15.3
Honda Civic/Civic CNG: 15.3
9. Chevy Cobalt/Pontiac G5: 14.88
Toyota Corolla & Honda Jazz: 14.88

On the basis of combined fuel economy, Civic Hybrid comes 2nd, Jetta 6th and Jazz 10th.
The Jetta TDI runs on clean diesel does very efficient combustion, and while the fuel may cost a little more, the TDI gets better gas mileage than most cars in its class by at least 30%. Diesel fuel prices may give some buyers pause, but the gains in fuel economy esp. Jetta, will far exceed the higher price per litre.
Cars like Maruti Alto and other small Indian cars(which are capable posting much higher kpl figures) did not make it to this list because this list is confined to cars sold in the US.
Source- EPA