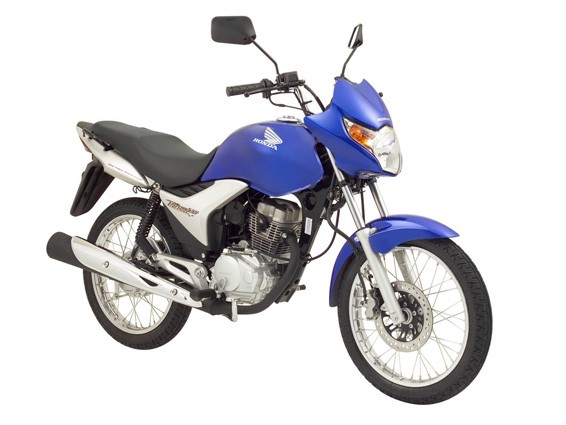 The guy you see above is the Honda CG150, the world's first flex-fuel motorcycle. It is equipped with an engine which can run either on any mixture of regular gasoline and ethanol.
Honda CG150 Titan Mix Image Gallery
The part that will catch the attention of Indians is its close resemblance to the Shine and Unicorn sold in India. It's engine and gearbox (At least casing) looks very similar to the Unicorn's.
As expected, this bike is solely built for the Brazilians as their country makes enough ethanol to be independent of crude oil for transport. Honda hopes to sell 200,000 CG150 Titan Mix models per year.
Source- Autoblog Green
Press Release
PRESS RELEASE:

Honda Begins Sales of Flex Fuel Motorcycle CG150 TITAN MIX in Brazil

Brazil, March 11, 2009 - Moto Honda da Amazonia Ltda.(HDA), a Honda subsidiary in Brazil responsible for production and sales of motorcycles and power products, announced it will begin sales in Brazil of the flex fuel CG150 TITAN MIX in mid-March 2009. This small-sized motorcycle is equipped with a Mix Fuel Injection System, a flexible-fuel technology developed independently by Honda. This is the first motorcycle in the world to be equipped with flexible-fuel technology. The starting price is 6,340 real, and the company is planning to sell 200,000 units annually.

With adoption of newly developed fuel supply and fuel injection control systems, Honda's Mix Fuel Injection System enables flexible mixture of environmentally-responsible bio-ethanol and gasoline fuels. Adoption of this technology helps reduce CO2 emissions, while reducing fuel costs for consumers as well.

In Brazil, penetration of flexible-fuel technology is well advanced, and approximately 90% of new automobiles sold in Brazil are equipped with flexible-fuel technology. However, CG150 TITAN MIX will be the first motorcycle model to be equipped with flexible-fuel technology.

Industry-wide new motorcycle registrations in Brazil reached approximately 1.91 million units in 2008, and Honda sales accounted for 1.326 million units of the total.