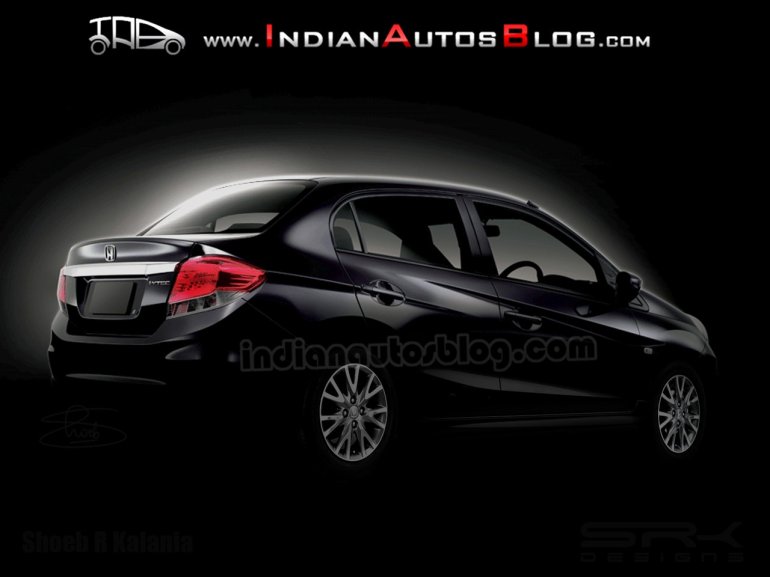 Note - This is NOT a rendering. The car you see in the image will launch in India next year.
There is no denying the fact that the terms 'sub four metre' and 'diesel' are the mantras for success in India. Cars that are under 4 meters long get an excise benefit of 12% over bigger cars.
Honda is rolling up its sleeves with the Brio sedan which is going to tick both the vital boxes. Yes, it'll measure less than four metres long and will come with a diesel heart.
Honda is currently the only manufacturer in India to have a petrol-only product portfolio and one needn't be an industry expert to tell that it's suicidal if it stays that way. The cruel rise in petrol price ensured that the sales of the once popular Honda cars have plummeted.
However, Honda is preparing itself to recover from the nose dive with the Brio based sedan, codenamed Honda 2TP, which is expected to say hello sometime in the March 2013. The compact sedan which is yet to be named (we'll stick to 'Brio sedan' until then) is a stick-a-boot-to-the-hatch exercise but we very well know that its a proven formula for India.
The Maruti Dzire, Tata Indigo, VW Vento, Skoda Rapid and Ford Fiesta are some examples of instant sedans.
At yesterday's event to mark the commencement of exports for the India-made Brio, Honda officials apparently confirmed that the Brio sedan will get the company's new 1.5 litre four cylinder diesel engine which is expected to carry the DNA of the 1.8 litre 'Earth Dreams' diesel engine. The same 1.5 litre unit will come to the rescue of the next gen City and Jazz models.
We expect the new oil burner to have better power output and refinement than the rivals. Given the long waiting period for the Maruti Swift Dzire, Honda could position the Brio sedan at a slight premium and could even get away with it!
Apart form the Dzire, Honda will have the company of the Mahindra Verito CS which the company's higher officials confirmed to IndianAutosBlog.com of a launch by the end of March 2013. So it's game on then!
The compact sedan will be the first Indian Honda to burn diesel and will bear a heavy responsibility of bringing back Honda to the forefront of Indian automotive scene.
[The image you see above is a digitally corrected and enhanced version of the teaser image posted on Honda's Thailand website]