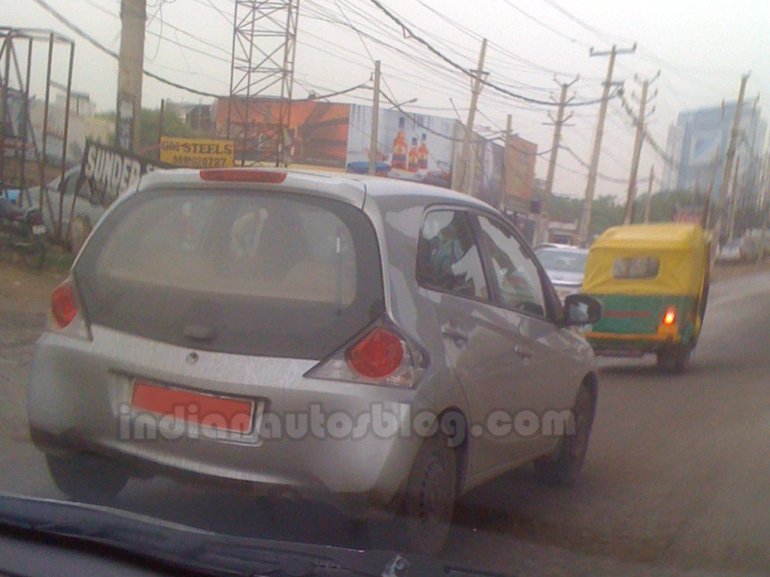 We had earlier brought you some pics and details of the Honda Brio Diesel being tested and now again our reader Rohit Naik has captured this life-saving variant on Gurgaon streets.
He could tell that there's an oil burner under the bonnet as the car puffed out black smoke during acceleration, and the unmistakable clatter of a diesel engine was audible at low RPM range.
No details about the engine have been reported but speculations suggest it could be a 1.2L four-cylinder CRDI mill. The new engine can produce about 80PS power and return well over 20kpl in the ARAI tests. It will also empower the next generation Jazz to challenge the might of the Swift and the i20.
Due to the non-availability of a diesel motor and the cost of petrol rising steadily, the vehicle inventory at Honda's yards are piling up. Introducing a diesel engine across its range would make Honda a different company as this would come on top of the recent price corrections that have made Honda products complete value for money.
The good old Civic has been shown the door, the current Accord and CR-V are in segments with little energy to spare. So it is now up to the three musketeers, Brio, City and Jazz, to make sure that the company stays in the race.
Honda is working on these vehicles to bring out more variants. If reports are to be believed, the company will soon launch an automatic variant of the petrol Brio. There are also speculations of Honda introducing a CNG variant of the City. We earlier presented you the news that the new 2013 CR-V being tested in India. The company is also looking out to turn India into an export hub for their compact vehicles to help utilize their petrol capacity fully. The 2013 Honda Accord was revealed recently and chances are, it will reach India in 2013.
We have our eyes and ears open to get you the latest news on Honda's diesel technology, so stay tuned with IAB.