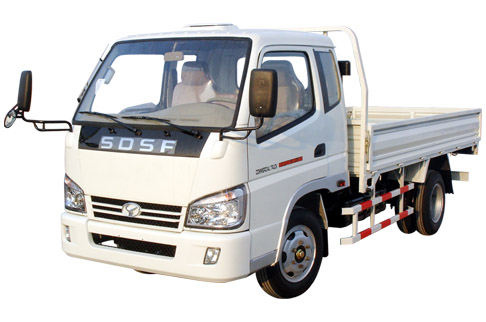 No, this is no coupe or a replacement to the Contessa or a modern interpretation of our good old Ambassador. What it is though, is a mini truck similar to the hugely popular Tata Ace. Its called the 'Winner' and will be manufactured at the company's Uttarpara plant in Hooghly district. Read our earlier article here.
Hindustan Motors Winner Details

Shandong Shifeng is the Chinese partner for HM in the mini-truck venture. This company manufactures vehicles from small cars to tractors in China. After visiting their website, we discovered that they had a Matiz clone in their line up of vehicles.
There will be 1,000 units of the HM Winner produced monthly in initial stages from the Uttarpara plant in West Bengal. The manufacturing capacity will be increased further according to the demands.
In a couple of months from now, we can also see a CNG Winner and some unspecified variants. The CNG Winner will be sold in New Delhi, which has a good infrastructure of CNG filling stations
The chassis and cabin assembly of the were developed by Shandong Shifeng, while the engine and powertrain are from Hindustan Motors. (I think a while back HM claimed only design inputs that were borrowed from elsewhere)
The Winner will be priced under 4 lakh
NVH Levels close to a Passenger Car; Disc brakes up-front
Hindustan Motors claims that comfort and noise, vibration and harshness levels are car-like in the Winner.
1489cc diesel engine producing 26.5 KW power and 73Nm torque driving through a 4-speed gear box, using disc front brakes and leaf springs.
HM will launch two more variants of the mini-truck by March next year- IAB predicts that this should be a people carrier like the Tata Magic and in both hard top and soft top variants.
Bajaj Auto, Mahindra & Mahindra (M&M), Force Motors, Eicher, Piaggio, Ashok Leyland, Atul Auto, TVS and Swaraj Mazda are also planning their own four-wheel one-tonne mini trucks.
IAB Comment- Sales of its flagship Ambassador has plummeted and hit the company hard. HM has only one way out of it and that is by developing an in-house car that can succeed the Contessa.
It will take lots of time and investment, but Tata and Mahindra have shown the way, and we feel HM can soon be on the pathway to success. What HM should not do is act as a doorway for Chinese products to enter India. We ask HM for how much more time will you be selling the same Amby.
Source : The Hindu, Dance with the Shadows and The Telegraph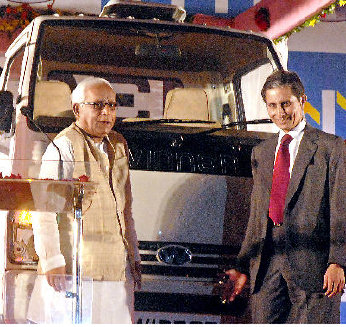 We wish HM the very best with this vehicle. It looks robust and the disc brakes and low levels of NVH  will make life easier behind the wheel. We feel that West Bengal Chief Minister is working to recompile the crashed image of WB after the Nano incident. He has made the right move by announcing this vehicle and fact that this vehicle will be manufactured there indicates WB Govt's interest in Automobile investements in the state. The Tata Nano is a thing of the past- That is how the WB Govt should look at it as they continue to search for more Auto manufacturers to invest in their state.