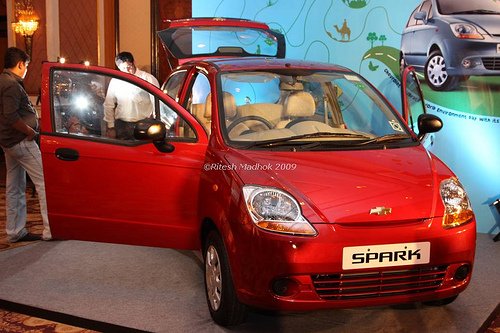 The Chevrolet Spark EV could be priced around 3.5 lakh rupees
REVA, the Bangalore-based electric car maker has sold just over 3,000 EVs around the world just before unveiling the NXG and NXR at the Frankfurt Motor Show. That makes REVA the largest maker of electric vehicles in the world.
Come next year, GM India could pip REVA and occupy the top spot, with heavy assistance from REVA themselves. GM India claims it will sell not hundreds, but thousands of Spark EVs in India.
The skeleton and panels including the dashboard and furniture will remain the same. Changes will be made inside the structure as the IC engine will be done away with and instead an electric powertrain supplied by REVA will guard the space.
The customer will be given the option of either the high powered lithium ion battery unit or the cheaper Lead Acid option. Depending on his choice, the car could cost up to 3.50 lakh rupees.
An electric vehicle will cost and take less time to manufacture since it involves assembling less components. Absence of expensive systems and parts like fuel injection, catalytic converter and a conventional gearbox reduce the overall weight of the car as well. The difference is more if you opt in for the highly effective Lithium Ion pack.
GM India is tying up with Bharat Petroleum Corporation Ltd (BPCL) to install charging facilities for its electric vehicles. The necessary infrastructure is not going to be put in place overnight, but GM has already demonstrated how it can be done with examples.
Karl Slym, President and Managing Director, GM India -
We are going to manufacture not in hundreds but in thousands the electric car we would be launching next year
Source - Business Line