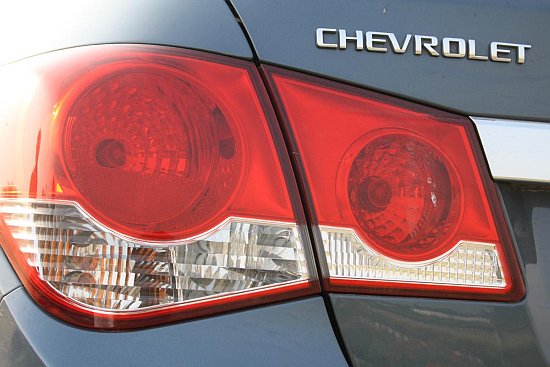 General Motors has pushed out a few electric Cruzes in Seoul, South Korea. Before you ask me when it'll come to India, let me inform you these are just part of a test program. General Motors isn't interested in putting them into production anywhere in the world. Not just yet.
Named Cruze BEV, the electric Cruze will go from 0-60mph in just 8.2 seconds and will accelerate to till about 165kph.
The test vehicle, in a single charge, will run for around 100 miles using its 31 kWh battery pack. A full charge out of a 220V socket will take about 8 hours. Just like the Volt, this e-Chevy will have its battery packs mounted to its underbody.
PRESS RELEASE
GM Extends EV Development with Demo Fleet of Electric Chevrolet Cruzes
* Developed by GM and LG for Demonstration Fleet in South Korea
* Early Testing Estimates Up to 160 km (100 Miles) of Range on a Single Charge
* Project to Begin by End of October
Seoul – General Motors today announced a demonstration project to explore market needs and customer acceptance of battery electric vehicles in Korea. The project involves a fleet of electric vehicles based on the successful Chevrolet Cruze. The result of shared development with GM Daewoo, LG Chemical and LG Electronics, the electric Cruzes will be part of a demo fleet that will operate in South Korea's capital, Seoul.
The project is aimed at benefiting GM's core vehicle electrification competencies, which include batteries, electric motors, power controls and charging. It will provide real-world data on customer acceptance of battery electric vehicles, studying driving patterns and charging behavior while sharing costs and resources. This is a key initiative in GM's global battery and electric vehicle development strategy. The demo project is expected to begin by the end of October. GM demonstration fleets with other partners are also being tested in other urban markets later this year.
The Cruze EV demo fleet will be the first compact sedan electric vehicles to hit the road and will be powered by batteries from LG Chemical and propulsion systems (motor/inverter) from LG Electronics. GM's EV demo fleet in South Korea will consist of Chevrolet Cruzes and GM Daewoo Lacetti Premieres. GM currently markets the vehicle under the local brand in South Korea.
"This Cruze EV demonstration project reinforces GM's commitment to being a leader in the development of electric vehicles and green technologies, building on our portfolio of hybrids and the Chevrolet Volt," said Karl Stracke, Vice President, GM Global Vehicle Engineering. "We'll apply the learnings from this and our other demo projects to help us deliver the world's best vehicles for our customers."
The Cruze EV is equipped with an LG Chemical 31-kWh battery that delivers a maximum power of 150 kW. Analysis and early testing done by GM and LG Chemical indicate the demonstration vehicles may achieve a range of up to 160 km (100 miles) on specific test schedules. The demonstration fleet will be monitored closely to determine the amount of real-world range achievable by a vehicle of its size. The vehicles can go from 0 to 100 km/h (60 miles per hour) in 8.2 seconds with a maximum speed of 165 km/h (102.5 miles per hour).
On a standard household 220-volt outlet, the Cruze EV can be fully recharged in 8 to 10 hours. Part of the demonstration fleet's task is to test a "quick charge" application that could reduce the charge time significantly.
"Although there is much more work to be done, our ability to develop this vehicle in less than a year offers a peek at the very promising plans we have for our customers in Korea and around the world," said Mike Arcamone, GM Daewoo President and CEO.
While battery packs often occupy trunk space, the Cruze EV's battery pack is mounted on the underbody. This gives the Cruze EV the same trunk space as conventional vehicles with gasoline engines.
"Expanding the domestic electric vehicle market carries significant meaning for collaboration between GM Daewoo and LG Chemical," said Bahn-suk Kim, Vice Chairman and CEO of LG Chemical. "Over the past two years, we have forged a strong partnership with GM, and now we look forward to doing the same with GM Daewoo in our home country."
Since 2008, GM has been working with LG Chemical, which is the exclusive supplier of battery cells for the Chevrolet Volt electric vehicle with extended range. The Volt enters the U.S. market later this year. The development of the Chevrolet Cruze EV demo fleet will expand this collaboration.
Source - Autoblog Green