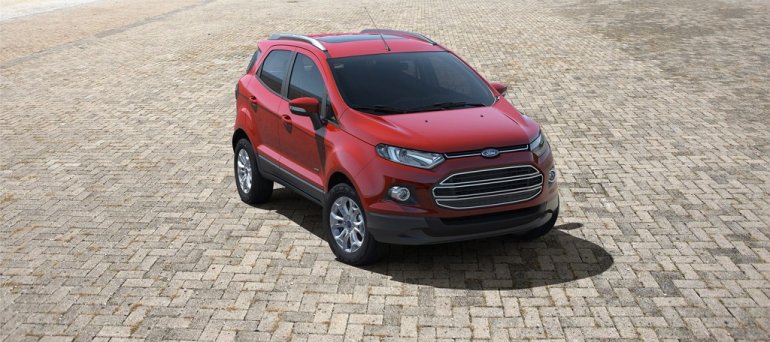 After revealing the interiors, Ford has uploaded a boat load of images of the production EcoSport model. The production model has two changes that we can instantly spot as compared to the Delhi Expo concept - it has a conventional headlight assembly and a spare wheel cover.
Ford is previewing the EcoSport today in Brazil and premieres it in China tomorrow at the Beijing Auto Show. Ford is using "Titanium" as the trim description for the top-end variant. They are sticking to the dark orange color (Mars Red) for communication.
The body is exactly the same as the concept car with a drag coefficient of 0.365. The interior is almost a complete carryover of the Fiesta with minor changes to the center stack. The background illumination has changed from red to blue, these maybe the interiors of the future Ford Fiesta as parts sharing is Ford's low-cost formula.
Ford is not wasting any time with launching the EcoSport globally. Brazil and China are preceding India as the team here is still testing and making changes to the car. We hear that Ford India is not likely to launch this car until the last quarter of this year, giving the Duster and mini Xylo some breathing space.
Two petrol engine options are discussed in the press material Ford's handing out before tomorrow's Beijing debut - a 1.0-litre, three-cylinder EcoBoost engine and a 1.5L Ti-VCT engine, Indians are familiar through the Fiesta.
Smart Keyless Entry, Ford Power Start, and a chilled glovebox are convenience features. In addition the EcoSport is fitted with regular Ford features like SYNC, dual front and side curtain airbags, ABS and ESP. Hill launch assist and rear parking sensors are additional driver aids, not expected to be standard. 21 liters of interior storage volume is presented through 20 storage pockets.
Camaçari, Brazil, Rayong, Thailand, and Chennai, India will manufacture and export the EcoSport to 100 markets globally.
We're waiting for our friends in Brazil to give us more on the EcoSport tonight, so stay tuned to IndianAutosBlog.com.
Ford EcoSport Image Gallery