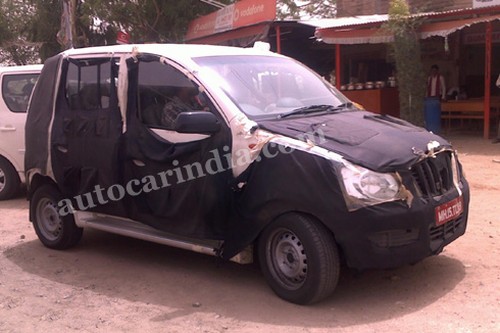 As can be seen from these spy pictures, Mahindra is developing a five-seater MPV based on the Xylo platform. The smaller or shortened version of the Mahindra Xylo was spied in Rajasthan, where it was undergoing hot weather testing. Mahindra is expected to position the mini Xylo as a small car in order to avail of a 12 percent saving on excise duty.
In order for the mini Xylo to qualify as a small car, it will have to be equipped with a diesel engine of not more than 1500cc of displacement and a length which is not greater than four metres.
The mini Xylo will be based on the current Xylo's platform and will use a shortened version of the current Xylo's chassis. The engine also in all probability will be based on the current Xylo's 2.5 litre m-Eagle unit (m-Vulture?), but will be suitably modified in order to bring the displacement down to under 1.5 litres (Probably by eliminating one of the cylinders and altering the bore and stroke of the m-Eagle engine).
Since the mini Xylo will be a  five-seater MPV, it will have only two rows of seats. The mini Xylo is expected to be competitively priced around the Rs. 5 lakh mark. The mini Xylo has the potential to crack open a completely new segment in the Indian market when it is launched sometime in 2011.
The only current rival for the Mahindra mini Xylo MPV would be the Premier Rio, the only SUV in the sub-4 metre category in the Indian market.
Source - Autocar India