We have been covering the Mercedes's upcoming CLA sedan sincerely by sharing numerous spyshots and information with our readers as soon as we find something on the internet.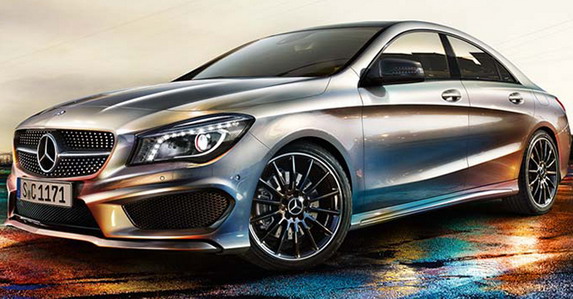 Mercedes is getting ready for an eventful Detroit Auto Show as they have two very important vehicles to unveil. First is the Mercedes E Class facelift which which was first officially uncovered on the internet following a leak.
The second and the most important unveil would be the Mercedes CLA compact sedan which is expected to be the Stuttgart based automaker's wild card entry into the game of global supremacy. The first official pictures of the much talked about car has surfaced on the internet and this is Mercedes' leak number two in as much weeks.
From the spyshots we already know that the cars silhouette is attractive and after seeing the detailed images one tends to like the car even more. The finer details have been given the attention they deserve.
The floating diamond front grill like the A Class, the sculpted rear bumper, a chin spoiler in the front bumper and the three distinct creases on the side are executed in top class fashion. The rear of the car serves as a tryst for many beautiful surfaces, like the swooping roof line, stylish tail lamps and a sharp edged boot lid.
The interior of the car has little to differentiate it from the A Class but that is not a bad thing because it still feels fresh and premium and also will save costs.
The CLA is expected to come with three petrol options - CLA 180 developing 122 bhp, CLA 200 with 156 bhp and CLA 250 which puts out 211 bhp. CLA 220 CDI burns oil and is good enough for 170 bhp. The CLA 45 AMG is expected to arrive in September 2013.
Mercedes has recently confirmed a newly developed 4MATIC all wheel drive system for MFA Mercs which will make its debut in the CLA.
[Source: Worldcarfans.com]