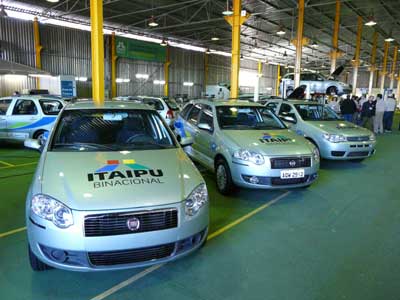 Itaipú Binacional - the World's largest Hydroelectric facility and Fiat Brazil have joint hands to manufacture, assemble and test electric versions of Palio Weekend called Palio Weekend Electrico which was unveiled at the Sao Paulo motor show last year.
The Palio Weekend Electrico is equipped with a small AC induction motor that generates maximum power of 15 kW (20 hp) and maximum torque of 50 Nm (5.1 kgm). With it, the car does 0 to 60 km/hr in 9 seconds, reaching a top speed of 100 km/h for a range of 120km.
The 20hp that the motor produces sounds less, but it weighs only 41.5 kgs, hence returns a decent power to weight ratio. The motor has no brushes, which ensures great durability. A nickel and sodium chloride (salt) battery located in the trunk runs the motor. A full recharge takes eight hours in any three-pin outlet of 220 V. One advantage of this type of battery is that its cheap and can be 100% recycled, thus avoiding the problem of disposal.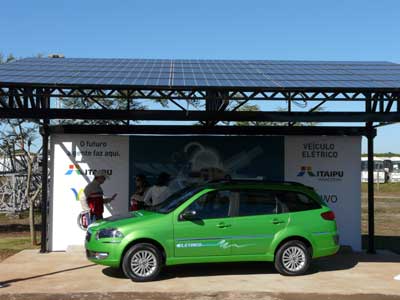 (above) A Solar Powered filling station
Itaipu has promised setting up of filling stations and providing the supply, and Fiat has started manufacturing the electric cars. What this means is that the South American auto market is all set to go electric using a green source - Hydroelectricity.
Fiat and Itaipu plan to build 50 units of electric Weekend until the first half of next year. Currently there are 21 of these cars being used by partners in the project, including the KWO, Ampla, CPFL, Copel, Eletrobras, Cemig.
Source: Autoestrada