The Fiat Abarth Punto, which launches this month, will be the most powerful non-luxury hatchback money can buy. This comparo pits India's top three powerful petrol hatchbacks, with the newly-launched Figo having found itself a spot thanks to its 1.5-liter Ti-VCT engine.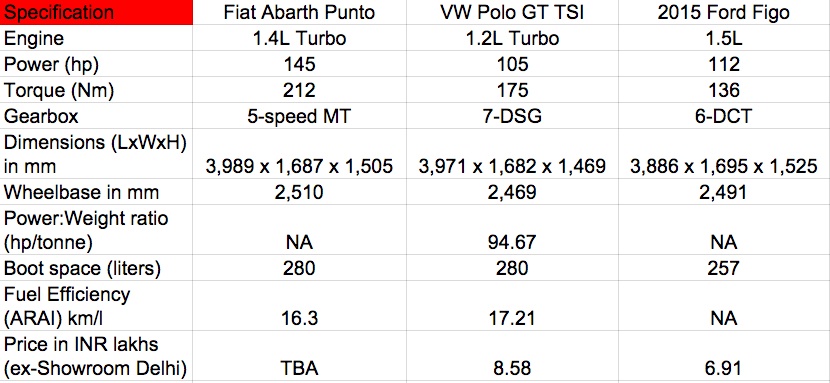 On the dimensions front, the Abarth Punto is the longest in overall length and wheelbase, whereas the Figo is the widest and tallest. However, owing to its segment, the Figo has the smaller boot, whereas the Abarth and the GT TSI feature a 280 liter trunk.
Coming to the engines, the Polo and the Abarth feature a turbocharged petrol engine, whereas the Figo's 1.5-liter Ti-VCT is naturally aspirated. The Abarth, true to its heritage, makes the most power and torque, while the Figo comes second in the power department, and last in the torque number owing to its naturally aspirated mill.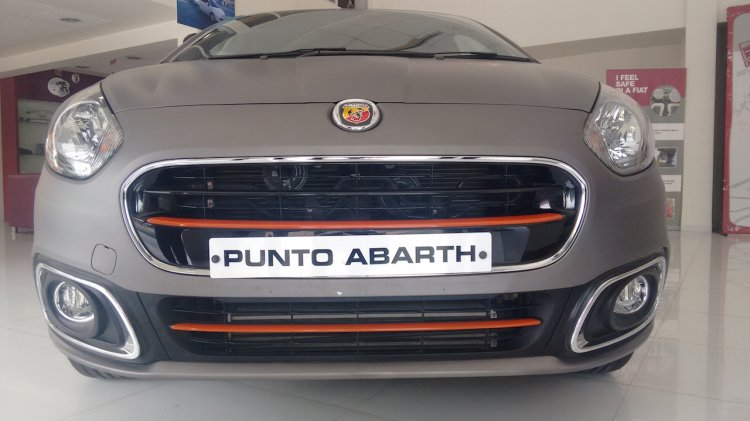 Appealing to the enthusiast, the Abarth Punto will come with a 5-speed manual transmission, whereas the Polo and the Figo uses a double-clutch transmission; the former features 7 speeds while the latter gets six. The Abarth Punto is claimed to be the quickest among the lot with 0-100 km/h taking only 8.8 seconds.
On the fuel efficiency front, the Polo GT TSI delivers 17.21 km/l, the Abarth is claimed for 16.3 km/l and the Figo AT is estimated to return 17 km/l. Thanks to its segment, the Figo is the most affordable car here at INR 6.91 lakhs, whereas the GT TSI costs INR 8.58 lakhs, ex-Showroom, New Delhi. Reports suggest that the Abarth Punto will be priced under INR 10 lakhs, ex-Showroom.