The Fiat 500XL is essentially a stretched version of the 500L MPV which in turn is the first derivative of the 500 hatchback.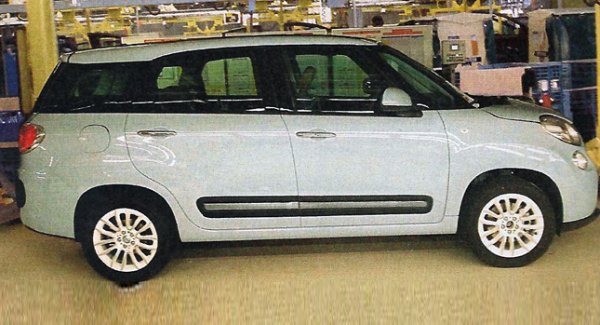 The cute Fiat 500 which actually debuted as a retro model is now the very crux of the Italian automaker's future product strategy. We have the 500L MPV and then we will be having the 500X crossover SUV. Fiat is not stopping there, it wants a 7 seat MPV as well.
Regular Indian Autos Blog readers have been introduced to the Fiat 500XL a few months before, as we brought you a spyshot of a camouflaged test mule. Now thanks to Castro, a forum member of Cochespias.net, we have a fully revealing spyshot.
The 500XL is longer than the 500L by 200mm and can occupy two additional passengers. While the overall design follows the 500L faithfully, the sheet metal aft the rear doors are elongated and the rear quarter glass is also stretched proportionally.
Despite its 500 roots, the 500XL is not designed to win any beauty contest but on the flipside it emerges as a practical and compact people mover. The powertrain options are expected to be carried over from the 500L.
A 1.4L 95hp petrol motor, a 0.9L 105 bhp turbo petrol engine and a pair of MultiJet diesel engines (85hp 1.3L and 105hp 1.6L) are the likely candidates.
We couldn't help but wonder why can't Fiat bring this car along with the Fiat 500X to India. After all compact UV segment is bustling in the sub-continent.
On the sidelines of Auto Shanghai 2013, we asked Mr. Mike Manley, COO of APAC region, Fiat S.p.A about the prospects of Fiat 500X, 500L and 500XL in India. Here is what he had to say - "We would consider bringing them to India...we are clear in terms of products. We were prepared to announce those on which we have already made the decision that they would come to India. The question was why wouldn't I consider other products. I would consider bringing any product from our stable as long as the brand is already in India. Whether we do or not, we will have to wait and see."
The Fiat 500XL is expected to go into production in May at Kragujevac, Serbia. The deliveries are expected to commence by the end of July.
[Spyshot: Cochespias.net]