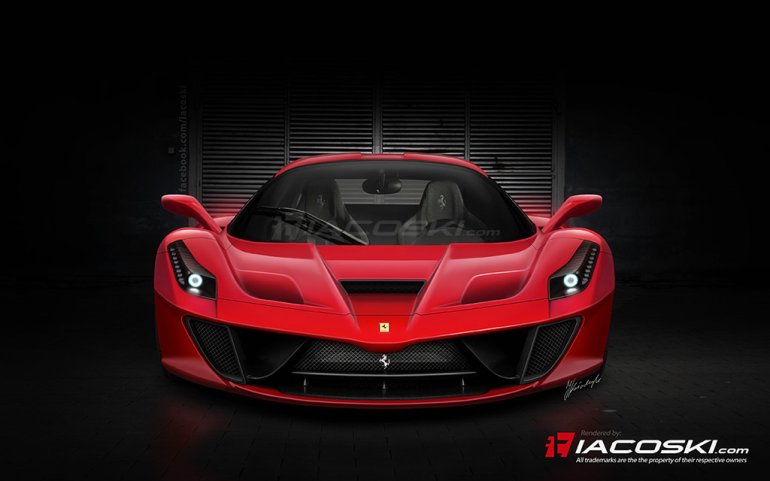 Earlier this month, Iacoski Design submitted a rendering of the Ferrari Enzo successor, codenamed F150, on their website.
Several speculative renders fabricated with the teaser shots as the framework have been appearing on the internet these past few weeks.
Ferrari are to reveal the F150 only at the 2013 Geneva Motor Show in March.
Lets do a quick revision in Ferrari F150/Ferrari F70 101 anyway:
It will be Ferrari's new flagship.
Will pack 800bhp of firepower from a 6.3-liter V12 HY-KERS (Hyper Kinetic Energy Recovery System) engine and dual-clutch gearbox.
Basically a V12 engine is backed up by a small electric motor and lithium ion battery packs. Total power could be as high as 920bhp. The engine is positioned in the centre of the car, ahead of the rear axle line.
Ferrari F1's knowledge will be put to very good use in almost all departments. In fact, Ferrari say that it'll take the driving experience even closer to the idea of a Formula 1 car for the road.
Weighing as little as 1100kg thanks to the extensive use of carbon fibre in its construction.
Closest competitor will be the upcoming McLaren P1.
Radical racecar driving position to the radical active aerodynamics, the F150 will use a lot of F1 tech. The carbon monocoque has roof-hinged doors like the Enzo and features a radical way that the driver is sat. Like an F1 car, the seat is fixed and will be moulded as a bespoke unit for the buyer. The driver sits upright and his feet will also be raised up, race-car style.
The car's pedal box and steering wheel are adjustable and it's believed that most of the controls are mounted on the steering wheel, F1 style. It's thought that this package saves as much as 90kg.
The F150 is based around a compact central carbonfibre monocoque weighing just 70kg (20 per cent lighter than an Enzo's).
Although the F150 will not be able to travel solely on electric power, Ferrari CEO Amedeo Felisa says that the HY-KERS hybrid system will give the F150 a "performance boost, knocking 10 per cent off the car's 0-125mph sprint time".
Overall, the F150's CO2 emissions are claimed to be 40 percent lower than would have been the case with the new V12 engine on its own.
Electric motor will feature a new torque-vectoring system.
Price expected at £800,000 (above INR 7-crore).
And last but certainly not the least, you cannot choose to buy the F150. No, its Ferrari who chooses who gets to own their very special offering.
[Rendering source from iacoski.com]