Our artist friend Theophilus Chin has projected a model that may never be made. Some may strongly disagree for us calling it an eye candy, but the fan following these two cars have in India made us bring Theo's rendering to our front page.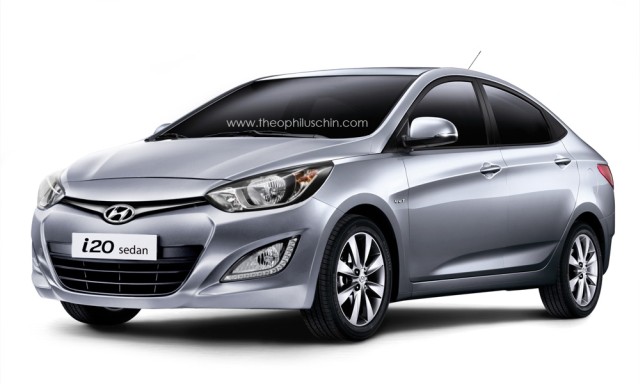 The Hyundai i20 is perhaps the biggest surprise Hyundai India has had in its 15 year history. The company had earmarked 1,500-2,000 units a month for the domestic market (if the media reportage is right) during its launch.
They were forced to do 3-4 times this volume and subsequently moved exports to the Turkish plant, leaving the production lines in India to cater only to the domestic demand. The i20 became Hyundai's Swift and features in top three places of its segment's rankings.
The Hyundai fluidic Verna is from the same basket. Hyundai had to bring in a facelift of the previous Verna though they knew that the model would last for only a year or less before the Fluidic Verna took over. One of our highly placed sources told us that volumes were expected to drop well below 1,000 units if the facelift didn't arrive.
When the Fludic Verna was announced, customers were impressed by the car's flush appearance and the abundance of variants satisfied every kind of demand. The Verna has never been the same since.
[Source - TheophilusChin.com]