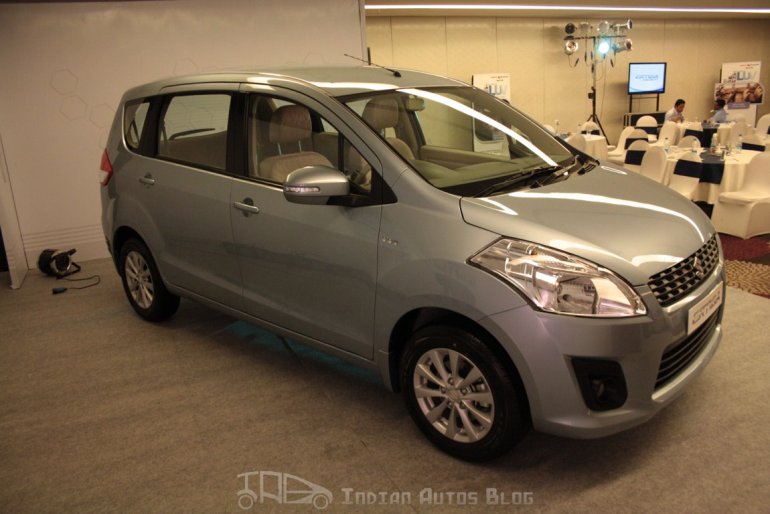 In the recent years, we have learnt that the India's fuel policy has become anyone's guess. Every now and then we hear some news about the fluctuating fuel prices in India. Automakers are confused whether to invest in petrol cars, diesel or alternate fuels such as LPG/CNG. It seems the right strategy is to bet on every single one of them.
Maruti Suzuki is the only manufacturer that has its risk spread out across fuel sources. They have a very good petrol engine technology (K-Series), diesel engines are being sourced from Fiat and every now and then we see CNG variants to keep the metro cities happy.
Now, AutocarIndia reports that Maruti Suzuki is working on a CNG variant of the Ertiga. The product development phase seems to be completed and the automaker will start rolling the Maruti Ertiga CNG variant in the next 2-3 months. Maruti Suzuki is expecting to sell 1,000-1,500 units of CNG Ertigas over and above the current sales average of 5,000-6,000 units per month.
With the Ertiga CNG, Maruti is clearly targeting customers that pay very keen attention to the running costs of a car. The target customer could be a city-dweller whose running is not more than 30 km a day. A diesel Ertiga just wouldn't make sense for his/her requirements.
The CNG Ertiga might also be popular with the fleet market because of its size. Cheaper running costs, easy availability of spares and Maruti's brand value might make it a smash hit in the fleet market (just like the Swift Dzire Tour).
India's current CNG powered vehicles market is very small owing to limited availability of the fuel itself. But as more and more automakers enter the CNG arena, we are going to see some major action in this segment.
[Source: Autocarindia.com]