How can a SUV (which is not really an SUV) from a very premium manufacturer compete be the top 3 best selling SUV in India. Whereas the Fortuner dominated the sales charts with 4,485 units from Jan to May, the Endeavour came in second with 1,404 units. The third was the Skoda Yeti with which managed to sell about 1,100 units in the same period. However, and here is the surprise, the BMW X1 sold 947 units and that too when the booking were shut for a period of 3 months. Simply Astonishing!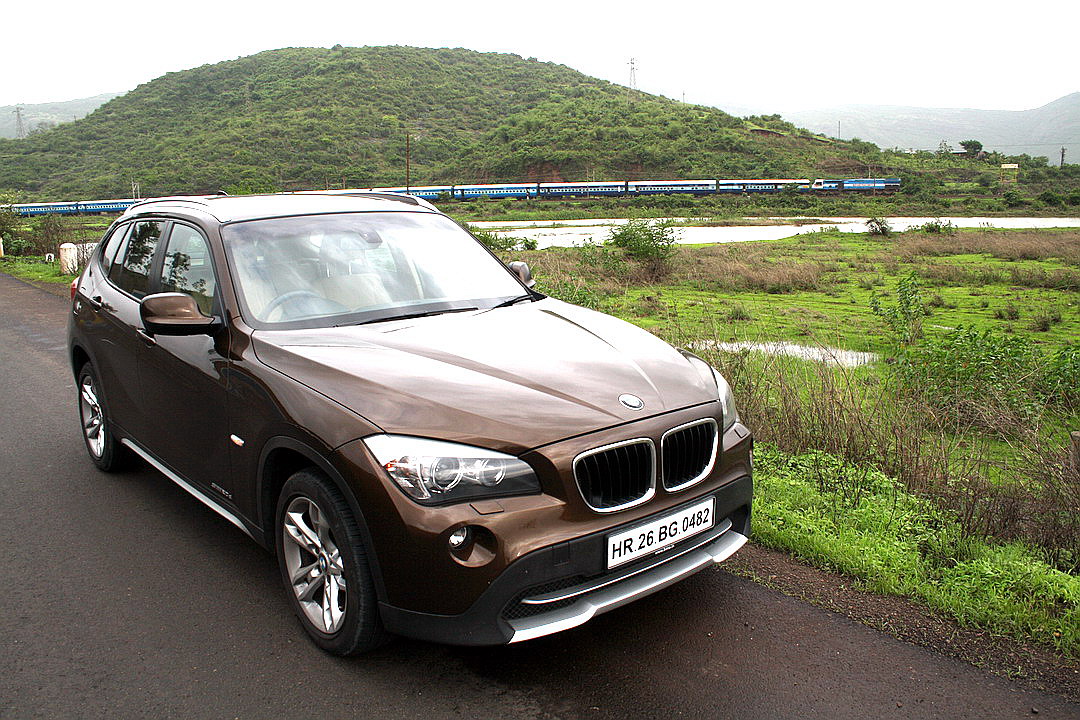 What is about this Bimmer that makes people stick to it like ants on sugar? Partly, because it is the cheapest BMW money can buy and yes a lot of people aspire to the badge. But is it just a badge game? Or is there substance to this rather unusual vehicle? We just had to find out. So we borrowed a test vehicle from BMW – the diesel one to be specific – and got cracking!
Why the Diesel? Isn't the Petrol variant the Cheapest one?
Yes, you are absolutely correct. The BMW X1 is offered in 3 variants. The cheapest one is the Petrol Variant (sDrive 18i) which starts at 22 lakhs. Second in line is the entry level Diesel (sDrive20d) which will set you back Rs 23,90,000 and finally the fully decked up Diesel sDrive 20d Exclusive which costs Rs 29,90,000 (ex-showroom prices)
The reason we didn't opt for the petrol one is because of petrol prices which are sky-rocketing and the torque of the diesel engine is addictive. So majority of the people are opting in for diesel cars. Considering this is a big & heavy SUV targeted towards the masses who do frequent highway runs, fuel economy (which I would come to later) will certainly matter.
Is that what it looks like?
Considering the vehicle was launched in December, I am pretty sure most of you have seen the X1 on road so no surprises in store. Many of you must have thought the styling is futuristic but your friends would have complained that it looks ugly. That's typical BMW styling which provokes opinions which are poles apart.
The BMW X1 is a bold and aggressive design, no 'people pleasing' (à la new 5 series) involved here. It not a very huge SUV, in fact it is actually based on the BMW 3 Series but with a shorter wheelbase. Many international auto magazines have touted it as a 'jacked up' 3 series and if you ask me, it's not hard to see why.
The BMW X1 has a lot of sharp lines flowing throughout the body. You get a sharp, protruding nose with the typical kidney grill. Adding to the aggressiveness are the 'corona rings' headlamps which remind you of the previous generation 5 series. There are brushed aluminum psuedo skid plates at the front and the back and some roof rails to make it look outdoorsy and SUVish
At the back, the X1 looks like a rather big hatchback with the tail lamps giving you an impression of an angry Transformer. Overall, the bold styling gets a thumbs up from us not because it is good or bad but because it is bold and we see very few bold designs these days.
How is the performance?
All BMWs sell with a tagline of 'The Ultimate Driving Machine' which means that they need to be good in 2 areas – Performance and Handling. The BMW X1 is no different.
The Diesel BMW X1 is powered by a 2 litre turbocharged mill producing 177 HP and 350 NM of torque between 1750 – 3000 rpm which is quite substantial. Considering the torque is kept in the lower bands, it is very much usable in day-to-day driving.
However, the X1 is a bit on the weighty side of the scale – 1,545 kg to be precise. So although the acceleration is brisk for such a heavy vehicle don't expect a 'kick in the back'. The BMW X1 goes from 0-100km/hr in 8.3 seconds to a top speed of 205 kms/hr.
All variants of the X1 come with a 6 Speed Automatic transmission. The transmission is a bit of worry because it is not as smooth as expected. Also, it seems the X1 is tuned for maximum fuel economy because the gear box tries to reach higher gears as soon as possible and refuses to downshift quickly. Sure, there is a manual mode in the gearbox. But because this is BMW's Manual mode which means you do exactly the opposite of what you should. You have to pull back to go to higher gears and push forward to drop to lower gears. Definitely not intuitive at all.
How is the handling?
This is the party piece of the BMW X1. Most SUVs are tall and as a result when you try to corner hard, there is considerable amount of body roll which can get a bit scary. Absolutely, no worries in the X1, not even remotely!
The suspension is hard so the ride is as flat as it can be. There is absolutely no hint of all body roll in the X1 when cornering at high speeds. Just point the nose of the X1 in the corner and keep your foot pinned on the throttle. It is almost unreal for such a huge vehicle to do this type of high speed cornering.
The rock hard suspension coupled with a 17 inch alloy wheels and 225/50 R17 run flat Pirellis provide you with good grip and perfect feel of the road.
How is it being inside the X1?
Being inside the X1 is exactly being inside the BMW 3 series only a little bit taller and way more roomier. The dashboard is lifted straight from the 3 series and has a typical BMW standardization to it. It is simple and straightforward. You don't have to look for buttons, they are all placed where they should be and marked with what they do. The build quality is up to the mark with other BMW cars so there is no cost cutting involved as such. However, it is a bit bland and doesn't make you feel 'WOW'
The multifunctional steering has a strange perfectness about it which is hard to find in other cars of the same segment. However, there are no paddle shifters behind the wheel for F1 fanatics. You do get a Start Stop Button but its doesn't sense the proximity of the key. So you have to insert the key and then press it.
This was the first time I was using the iDrive and I found it quite simple to use. I don't know why people complain about the complexities of the iDrive because there aren't any. It also has USB, Auxiliary ports and an 8 speaker system for your entertainment needs.
The rear seat is very comfortable with ample of head room. The X1 is primarily a four seater, although a fifth person can sit in between. However, the transmission tunnel can make things uncomfortable for him. The ample head room coupled with the panoramic sunroof gives a very airy feel to the X1's cabin which is lacking in the donor car - The 3 series.
What are the safety features?
The X1 comes equipped with all the basic safety features such as Brake assist, Traction control, ESP and 8 airbags for any mishap that may happen on the road. The parking sensors make sure you don't back up into something or someone.
What about the fuel economy?
Considering the BMW X1 is still not very niche and targeted towards the masses (although not in a Tata Nanoish way), Fuel economy is still important. BMW claims that the diesel variant can give you up to 15.24 km/l; although, I struggled to push the figure beyond 10.1 km/l. So you can only imagine what the petrol one would give ;)
But it's not an SUV or is it?
No, it's not an SUV; even BMW doesn't call it an SUV. They prefer to call it as an SAV (Sports Activity Vehicle). So they haven't fitted it with a low ratio gearbox or hill descent control or any other feature that is required for off roading. It is not even an all wheel drive for that matter. All the power goes to the rear wheels.
However, the increased ground clearance was such a boon on Indian roads. I took it through some seriously deep holes which I wouldn't have even thought about if I had a 3 Series. You can sump over potholes, deep ditches without having to worry about the repair bill. That is definitely a thumbs up!
Anything that I wouldn't like?
There are quite a few niggles that you wouldn't like:
The turbo lag drives you nuts when overtaking. I know that for now there is no perfect solution for turbo lag but it feels that that BMW haven't done anything to cure it in the X1. Totally not expected in the 'ultimate driving machine'.
All BMW's have heavy steering wheel but this one is set in concrete. The thing doesn't budge unless brute force is applied. Heavy steering is a boon on motorways but in city traffic, it is extremely uncomfortable.
The ride is hard and sometimes unbearable for the rear passengers.
It only a 5 seater so people looking for a 7 seater SUV, head to the Toyota Fortuner.
No spare wheel because BMW claims run flats don't need one
How does it stack against competition?
If you consider tête-à-tête, there are no competitors for the BMW X1, it's a segment in itself. However, you could compare it to the Skoda Yeti, Mitsubishi Outlander, Nissan X-Trail and other such 5 seater SUV. This is where the 'badge factor' dwarfs the competition. And it is a very tough to beat value proposition.
The real competition will come from Audi Q3 which will be here next year and the Mercedes MFA-based junior crossover which will launch in 2014. Until then, BMW has the field to its own.
Any last thoughts?
With the X1, what BMW has accidentally created is an aspirational but easy to reach and intelligent product. They haven't compromised on the intrinsic qualities of BMW to reduce cost, they have just identified their target market correctly and removed all the features that they wouldn't need to make it reachable.
Many a times, we criticize big brands for charging higher for no apparent reason. BMW has turned the equation round and provided as much value as they can in an effort to welcome more people in their family and in a hope that they get addicted to what BMW can offer.