Chevrolet Sail launched in Colombia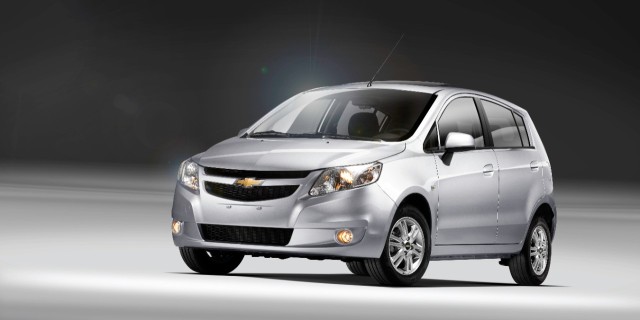 Chevrolet's most expected model in recent times, the Sail, has been launched in Colombia. The Cruze's younger brother is assembled at the GM's Colombian plant after 50 Colombian and foreign engineers worked on the car to acclimatize it to local conditions.
The Sail was conceived and nurtured at the Center of Design and Engineering of General Motors Shanghai and is currently making its way towards the global markets.
The Sail twins also mark the entry of a Chinese car from a mainstream manufacturer in India.
In Colombia, the Sail uses a petrol-fueled 1.4-liter, 4 cylinder, DOHC 16-valve engine that maxes at 102 hp at 6,00o rpm. It also uses VGIS system (Intake Manifold Variable Geometry) technology. This is the same engine expected here in India. We'll also get the diesel option in the form of the Fiat-sourced 1.3L diesel.
The Colombian Sail sedan is priced at Rs.10 lakhs and hatchback costs Rs. 9 lakhs.  It is launched in LS, LT, LTZ versions.
The Colombian Sail comes with Chevystar Connect system which can open doors remotely via SMS, make Bluetooth voice recognized calls to mobile contacts and play music from an iPod or mobile device, make health care and emergency calls and has a GPS accessory .
The LS variant offers Chevystar Theft system which monitors and tracks the vehicle in case of theft. These technologies will not be available on the Indian Sail, but customer demand for such safety technologies is on the rise.
Its Indian counterpart still under camouflage
While writing this article we received pictures of the Sail twins being tested at Masinagudi near Ooty and at the Pune. Pictures from Ooty are sent by our reader Capt.Praveen Prabhakar, while the Pune spyshot is from Punit Bhatt. Both the sedan and hatch versions of the Sail (in off-beat body colors) are pictured in the Ooty.
The one caught at Pune by Punit seems to be the top-end variant which glistens with alloy wheels, chrome surround on foglights and metallic paint. These pictures add to the long list of the Sail spypics we've brought you all year.
You can read all about the Chevrolet Sail here
[Source - F1latam.com]