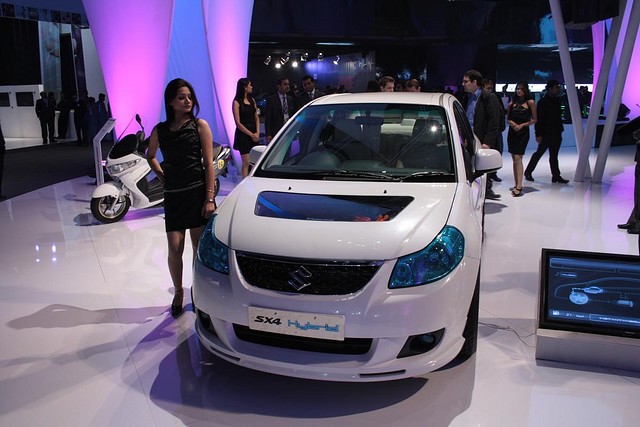 Back in October we showed you the two green cars from Maruti Suzuki - the SX4 Hybrid and EECO charge. Both cars were not meant for commercial purposes and were being used for the display and demonstration during the Common Wealth Games. But it is not impossible to believe that MSIL is not considering both these cars for a commercial launch.
The SX4 Hybrid is something that generated a lot of interest, even when it was displayed at the 2010 Auto Expo. This car is powered by the 1.2 liter K Series engine (from the Maruti Ritz) as compared to the 1.6 liter engine on the normal SX4. It also gets a 50 KW electric motor that gets its juice from a 2.35 Kwh Lithium-Ion battery.
This car has a parallel hybrid system (like the Honda Civic Hybrid), though a plug-in version will be an attractive feature for India. The car features regenerative braking system in which braking power of the car is converted to electricity (kinetic energy into electric energy) and stored in the Lithium-Ion batteries which the electric motors can then use to propel the car over longer distances.
The car has a 5 speed Automated transmission. It also has a dual clutch system that features one clutch between the engine and the electric motor, and one between the electric motor and transmission.
The battery is located in the boot and the cooling system is also independent for the battery along with its electric compressor.
The car will initially use the power of the engine to start from standstill, but if you press the throttle very mildly, it will only use the electric motor. Above 40 kph, the petrol motor will smoothly take over, propelling the car forward.
When you step off from the pedal, the engine power will be sent to charge the battery. Also in case of quick acceleration, both the engine and the battery work together. So it can convert from a series to parallel hybrid or vice versa anytime.
The transmission too can be used in either of the two ways- fully auto mode or in +/- manual mode.
With all these changes made to the SX4 Hybrid it is 25 % more fuel efficient than a regular SX4. Also, it does not lose out on power. Combined output from the Hybrid version is 125 BHP as compared to 103 BHP of the regular SX4. The suspension remains the same and the top speed of the Hybrid SX4 is 160 kph.
It is quite an impressive car and with the government incentives kicking in for greener cars, we can sense that Maruti for sure, is going to launch this car sooner or later. But will the unforgiving Indian sedan buyer overlook the extra procuring cost and an occupied boot for a car that's silent, needs lesser stops for fuel, and does a whole lot of good to the environment and air quality?