The Bugatti Chiron made its world debut at the 2016 Geneva Motor Show this month and is currently available to order. Here's a pictorial comparison of Molsheim's latest megacar stacked above its predecessor, the Bugatti Veyron.
Bugatti Chiron vs Bugatti Veyron - Design
The Bugatti Veyron had a futuristic design at the time when it was introduced, but a car is bound to look dated without redesign for a decade. Due to its engineering uniqueness though, the Veyron never lost its appeal. That is why, Bugatti took an evolutionary approach for the Chiron's design. The horseshoe grille, sleek headlamps, V-shaped bonnet, horizontal air intakes, C-shaped curve on the sides which Bugatti calls the 'Bugatti Line', and the centre-positioned quad tailpipes flanked by air vents – all are cues borrowed from the predecessor.
Bugatti Chiron vs Bugatti Veyron - Dimensions
The Bugatti Veyron measures 4,462 mm in length, 1,998 mm in width and 1204 mm in height, and had a 2,710 mm-long wheelbase. In comparison, the Bugatti Chiron is 4,544 mm long, 2,038 mm wide and 1,212 mm high, and has a wheelbase of 2,711 mm. The Veyron has a kerb weight of 1,888 kg, and the larger Chiron's dry weight is 1,995 kg.
Bugatti Chiron vs Bugatti Veyron - Engine & Gearbox
The Bugatti Veyron was powered by an 8.0-litre quad-turbo W16 engine producing 636 kW (1,001 PS) and 1,250 Nm of torque. The engine is coupled to a 7-speed DSG dual-clutch gearbox and there is an all-wheel drive system to distribute the power between the wheels. The Bugatti Chiron sports a heavily revised version of the same engine. In the Chiron, it produces 1,103 kW (1,500 hp) and 1,600 Nm of torque. Power is sent via an improved version of the Veyron's 7-speed DSG unit and distributed between the wheels via a permanent all-wheel drive system.
Bugatti Chiron vs Bugatti Veyron - Acceleration & Performance
The Bugatti Veyron can reach 0-100 km/h in 2.5 seconds, 0-200 km/h in 7.3 seconds and 0-300 km/h in 16.7 seconds, and hit a top speed of 407 km/h. The Bugatti Chiron can reach 0-100 km/h in under 2.5 seconds, 0-200 km/h in under 6.5 seconds and 0-300 km/h in under 13.6 seconds, and hit a top speed (electronically limited) of 420 km/h.
Bugatti Chiron vs Bugatti Veyron - Features & Technology
The Bugatti Veyron's interior insisted on the driving, and missed out on the fancy gizmos. The cabin was made of luxurious materials, but it didn't even have a dedicated screen for infotainment on the centre console. The navigation data and reversing camera output were displayed in the interior rear-view mirror.
The Bugatti Chiron's infotainment system is integrated into the instrument cluster. The infotainment data fades as the driver increases the speed, and hides completely at a point, so that the driver focuses on the road and is shown only the necessary information.
The dashboard, centre console and the seats are lavish and are designed to last another decade. There's a high-end surround sound system developed by Accuton exclusively for this car. The four tweeters of the sound system feature a one-carat diamond membrane each. The mid-range speaker with two separate membrane zones is a world-first. Other highlights include leather and carbon-fibre steering wheel, 31 colour choices for leather and eight colour choices for alcantara materials with an option for customization, and technologies like 3G (UMTS) and Wi-Fi connectivity.
Bugatti Chiron vs Bugatti Veyron - Production & Price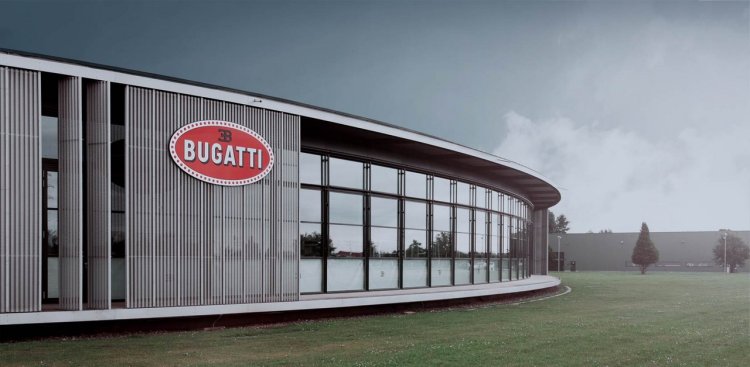 Also Read: Bugatti Chiron Grand Sport (roadster) – IAB Rendering
Priced from €1 million, the Bugatti Veyron 16.4 was limited to 300 units and was sold-out in 2011. The Bugatti Chiron is priced from €2.4 million and limited to 500 units, and over one-third of the total production run is already spoken for. The total production possibly includes future derivatives.
Like its predecessor, the Chiron will also be made in Molsheim, France.