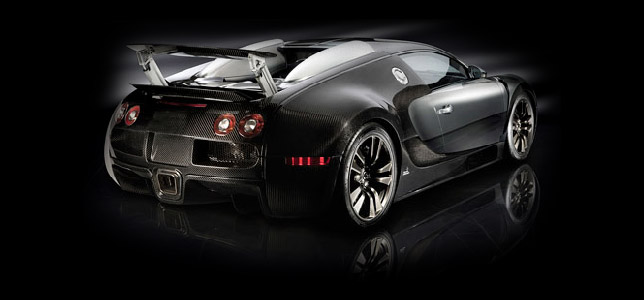 This could be the ultimate machine for earthlings who crave for speed and more of it. Yes, you might have guessed it by now, it is a Bugatti Veyron tuned for more power in an effort by tuners Mansory to create an ultra high performance super car.
Linea Vincero from Mansory has fitted the Bugatti Veyron -
The front of the car is a comprehensive face-lift including modified wings.
It also gets a shorter hood and a striking front apron
The LED daytime running lights integrated in the front mount and the implemented stylized "V" as a special tribute to the name "Vincero" draws attention.
The newly developed side skirts are the visual and aerodynamic connection between the axles.
Larger air outlets on the sides and the back render optimal engine cooling and in combination with the new diffuser, they underline the powerful car design.
The car comes with fully-forged turbine-design wheels for the Linea Vincero in serial dimensions.
Bugatti Veyron Linea Vincero from Mansory Image Gallery
In terms of performance, the Bugatti Veyron Linea Vincero produces 1109 BHP and 1310 Nm
On the inside of the Mansory Buggati Veyron, It gets -
LED lights of the new Ambiente-Illumination-System fitted in the seats, door linings and the dashboard
The car has an ergonomically designed airbag steering wheel is both sportive and pliable and is equipped with rocker switches etc.