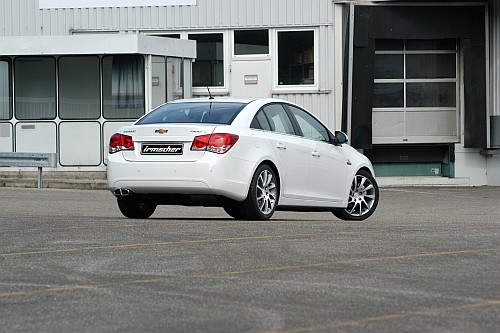 Chevrolet and its European tuning associate Irmscher has launched a modified Chevrolet Cruze in Germany with cosmetic and mechanical upgrades at this week's AMI motorshow in Leipzig, Germany.
Called Cruze Irmscher Edition, the car receives an optional boot lid spoiler, 18-inch alloy wheels draped in fatter 225 sport tires and aluminum door sills.
Irmscher's under-hood modifications include a 25mm suspension drop, exhaust silencers with elliptical twin exits along with a 36HP and 146Nm boost for the 2.0-liter turbo diesel engine taking the total output to 186HP and 466Nm at 2,300 rpm.
Post surgery, the diesel Cruze does zero to 100km/h (62mph) in 8.0 seconds. The Cruze Irmscher Edition can be bought in Chevrolet's German dealerships.
For the Indian Cruze buyer with a disappointed look, well you see Chevrolet at the moment is focused on selling the default Cruze. Once the company is able to clear the backlogs, it will think about introducing body kits and modifications.
Karl Slym, President and Managing Director of GM India in an interview recently said the Transformers-GM partnership is not going to influence cars in India. This means the Bumble Bee paint scheme would not be imitated on smaller cars like the Cruze and the Beat.
Chevrolet Cruze Irmscher Image Gallery