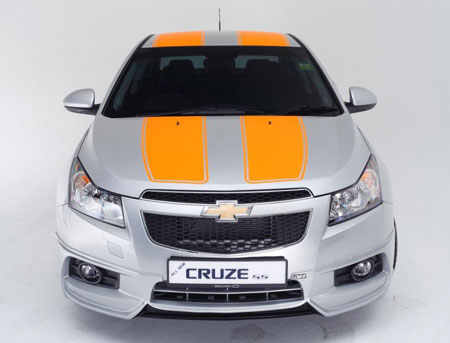 The Chevrolet Cruze SS body kit adds aggression and toughness to the car
GM in Singapore is offering a "Cruze SS" bodykit for Chevrolet Cruze customers. The inspiration for the body kit has clearly come from the Bumblebee character played by the Chevrolet Camaro in the mega hit Transformers movie.
The kit consisting of a front, rear and side skirts, a rear spoiler, 17 inch alloy wheels wrapped with Falken tyres, and illuminated skuff plates, adds oomph to the already muscular styling.
The Chevrolet Cruze SS kit is priced at SG$4,980 which translates to around 1.63 lakh rupees.
If you think this pack looks uncool, then check out the Irmscher body kit for the Chevrolet Cruze.
Chevrolet Cruze SS Image Gallery
Source - Paul Tan