Rumored to output 1500 hp from 8.0L W16 engine.
A new video of the exposed Bugatti Chiron prototypes has surfaced online, this time spotted testing along with a Bugatti Veyron SuperSport WRE, its distant cousins: the Porsche 918 Spyder and Lamborghini Huracan, as well as a BMW i8. It's unclear if the supercars were brought for benchmark testing or simply following the Chiron prototypes.
[Youtube link]
The company has teased the Chiron publicly in their seasons greeting card, which outlines the design of the upcoming hypercar. As seen in spyshots and renders, the Chiron will feature a more angular and aggressive design that draws heavy inspiration from the Bugatti Vision GT.
Further affirming the presence of an 8.0L W16 engine is the exhaust note of the second Chiron prototype, which is nearly similar to the deep rumble of the Veyron. In the Chiron, the large powerplant is expected to deliver 1500 hp and 1500 Nm of torque through a 7-speed double clutch gearbox paired to an AWD system. Leaked specs suggest that the Veyron's successor is capable of sprinting from 0-100 km/h in 2.3 seconds, 0-300 km/h in 15 seconds, before hitting a rumored top speed of 500 km/h.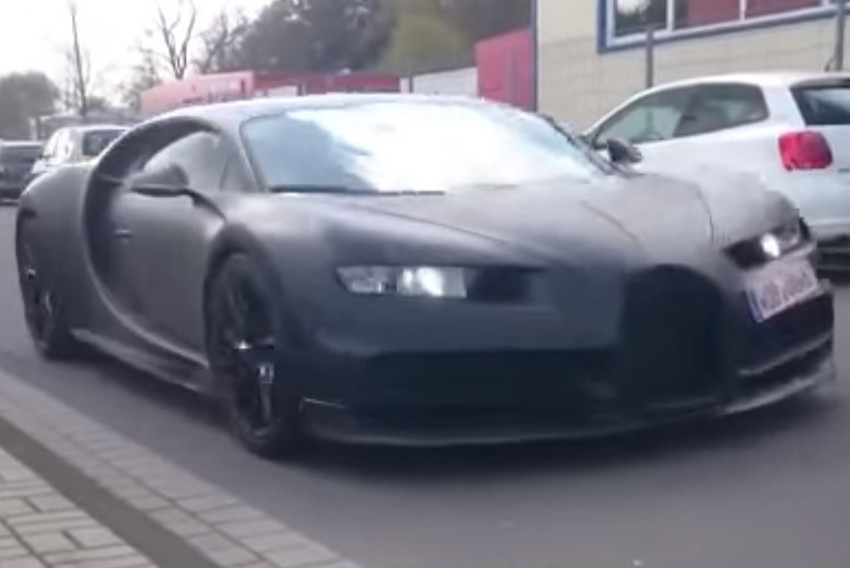 Given that Bugatti is a niche manufacturer focusing on exclusivity and bespoke touches, the Bugatti Chiron will be limited to 500 copies and is rumored to be priced from EUR 2.5 million. It is confirmed to debut at the 2016 Geneva Motor Show in March.