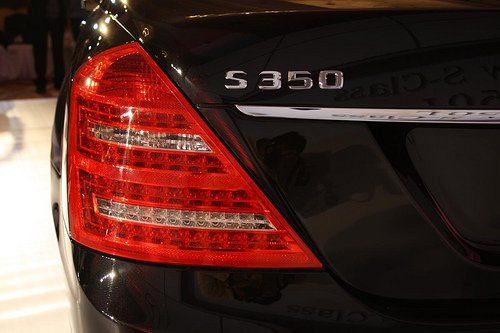 The Mercedes Benz S 350 L and S 350 L CDI will help them maintain market share
I don't know what is quick, the speed of these beauties launched today or the speed at which the Mercedes is launching cars in India.
If you remember we covered the launch of GL-Class (The Big Macho SUV) & SL 500 (Fastest Limousine produced in India) couples of weeks back. Following that we covered the launch of V6 (Petrol & Diesel) versions of new E class few days back and to our amazement we were covering the launch of new S Class avatars today.
The launch was in typical Merc fashion, very subtle, classy and professional but the unveiling of beauties Merc S 350 L and Merc 350 CDIL Blue Efficiency made the hall livelier.
Notable differences in new Mercedes Benz S class
Redesigned Rear Seat comfort
Massage function on seats (Rear)
Remote control for Rear seat passengers
Co-passengers can watch movies on headphones without disturbing driver
Daytime running LED's
Improved Coefficient drag
Better Mileage due to improved dynamics
Multi colored ambient lights in interiors which can adjust as per outside conditions (Blue, White, Amber)
Split view technology, this helps the person on Co- driver seat to watch what ever he wants without disturbing the driver, as the driver will have the separate view at the same time from same screen housed in center
Attention Assist, this aims to warn the driver in case he loses focus because of tiredness.
Advanced parking guidance
Shakti's say on the new launches:
The products look great and can stand neck to shoulder in front of its homeland rival. With the never ending innovation in technologies, once again S Class shows why it is the only answer all across the globe for the most influential peoples.
This rapid global product launches from German giant, who earlier shaved some latest technology features in Indian cars which were offered globally, depicts the seriousness about the Indian market to regain the crown which was lost to BMW last year.
Q&A with Dr.Wilfried G. Aulbur (Managing Director & CEO, Mercedes-Benz India)
Where does S class stand in India?
S class currently holds approximately 53% share in the segment
How many units sold last year?
437
Any more launches from the brand?
Few more launches lined up for 1st quarter (IAB expect's C250 CGI, which we covered few days back)
Any plans on entering into finance options as the BMW will be entering into same venture in 2nd qtr. ?
No plans as of day, we are closely working on with local finance partners
Investment in India?
250 Cr already invested, another 200-250 will be invested in coming years in expansion plans
Your take on BMW's being No.1?
Motive of Mercedes Benz - Focus on Profit making and not just numbers
Company's profitability status in country?
We are making profit since 2000
What's your say on Bangalore's R&D?
Our Bangalore R&D is the biggest and most advanced outside Germany. Currently there are 350 people.
Expansion plans?
We are looking forward to add more business from tier 2 and 3 cities. There is new flagship store in pipe line in Delhi with T&T motors; this would be the biggest store with 26 models displayed at a time.
Mercedes Benz S350 L, S 350 CDI L Launch Image Slideshow
If you're not able to see the slideshow above, visit the new Mercedes Benz S-Class variants launch image gallery
Press Release
The 2010 Mercedes-Benz S-Class: A new benchmark in the luxury class

* The S 350 L and S 350 CDI L BlueEFFICIENCY join the S 500L to complete the New 2010 S-Class line-up in India
* New power packed features include SPLITVIEW technology, Advance Parking Guidance with ultrasonic sensors, Reversing camera, ATTENTION ASSIST, Multicolour Ambient Lighting and LED Light Package among others

New Delhi - Mercedes-Benz, today formally announced the arrival of its iconic sedan and a global favourite - the All-New S 350 L and the S 350 CDI L BlueEFFICIENCY in India. With state-of-the-art technology for even greater safety, as well as trailblazing innovations in comfort and drive technology, the Mercedes-Benz flagship is all set to reassert its leading position as the brand's innovation platform and benchmark for luxury sedans. For more than five decades, the Mercedes S-Class cars have signified a special aura, showcased intelligent technology and delivered the highest quality.

Speaking at the launch ceremony, Dr. Wilfried Aulbur (Managing Director & CEO, Mercedes-Benz India) said, "The all-new S-Class is the perfect embodiment of the brand's core attributes of safety, comfort, quality and innovation. Its uncompromising standards have made it the preferred choice of the world's most powerful and influential people. Continuing the legacy, the all-new S-Class not only displays outstanding driving dynamics, but is a fitting testament of our technological expertise. Globally the S-Class is the overwhelming market leader in its segment; in India as well, the S-Class is the clear leader with over 53% share of the market. The new S 350 L & S350 CDI L will carry forward the S-Class leadership in this segment."

The 2010 S-Class is the only car in its category to offer a unique combination of ultra-modern assistance and protection systems. The new assistance systems turn the new S-Class model into an "intelligent" partner for the driver. The car is able to "see", "feel", respond reflexively and act autonomously to prevent accidents or mitigate their effects.

The 2010 S-Class offers features designed to provide highest levels of comfort and safety to its occupants. Features like Advance Parking Guidance with ultrasonic sensors, Multicolour Ambient Lighting, LED Light Package, Climatised seats, Massage function for rear seats, ATTENTION ASSIST, etc are standard. As an exclusive world first for the 2010 S-Class, SPLITVIEW technology is being offered. With two views on a single screen, both the driver & the front passenger can view different functions simultaneously on the screen. A wireless headphone with remote ensures that the co-passenger does not interfere with the driver's focus while on the road.

Great attention has been given to the Rear Seat comfort & entertainment package for the rear-passengers. New introductions include redesigned rear entertainment screens with remote control & 2 wireless headphones as well as standarad massage function for the rear passenger.

With typical Mercedes attention to detail, the designers have also given great attention to the interior of the new Mercedes-Benz S-Class, ensuring that every feature appeals in both emotional and functional terms with its form, colour and material. The result is a harmonious whole - an atmosphere in which the car's occupants immediately feel safe and protected, and long journeys can be taken without any feeling of effort or stress.

The new S 350 L is priced at Rs. 82 lakhs (ex-showroom Delhi), while the new S 350 CDI L BlueEFFICIENCY comes at Rs. 80.50 lakhs (ex-showroom Delhi).