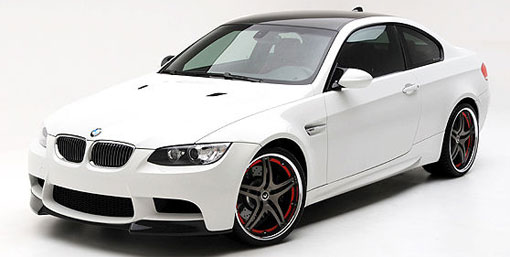 The letter M maybe the most powerful alphabet, but a 3 accompanying it makes it more exciting without doubt. The M3 is all nuts already and we hear that Vorsteiner has gone a bit mad with even more mods.
American tuner Vorsteiner wanted to modify the M3 to something as good as a CSL (which eventually BMW will not produce :( ). The resultant M3 has lost shed weight thanks to a skew of light weight parts.  A new carbon fiber hood, new carbon fiber rear trunk with integrated spoiler, carbon fiber rear air diffuser and a new titanium-made exhaust system topping the list in the car's dieting program.
Underhood changes are major. The engine which originally gave out a massive 420 bhp has been empowered with strength to give out 460 bhp and 328lb-ft of torque. What's the point in having all the power in the world and put a limiter to the fun and the speed? So the tuners decided to get rid of it whiich enables the beast to reach speeds as high as 320 kph.
On the outside, the modifications compliment the underhood changes. A new set wider alloy wheels were added in order to improve looks and to reduce overall weight of the vehicle. According to the manufacturer, a new version of the M3 is currently under development capable to develop an astonishing 500 hp. We'll wait for that one, but if you own an M3 and you are Robert Kubica, this package is the one you were waiting for all your life (We're just kidding. Only until the 500 hp version comes out) :D