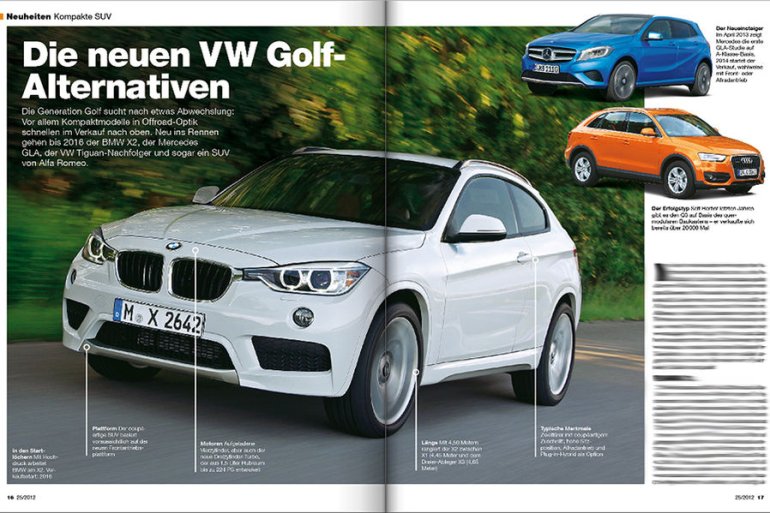 The compact crossover avalanche has begun!.
The three German giants are leaving no stones unturned in their quest to outwit each other in the fierce battle for pride and glory.
In the process, the prospective customers are not only going to be spoilt for choice but also will have an entry level price point which is hitherto unheard of in the premium segment.
The latest speculative entrant into the small Crossover territory is the BMW X2. The news of it comes after the BMW X4 Coupe based on the X3 is confirmed, and a concept premiering at Detroit next year.
The BMW X2 Crossover Coupe will be the youngest coupe sibling to the current BMW X6 and the upcoming BMW X4 and will be based on the X3. The next generation X1 will be sharing its underpinning with the new Mini Countryman, suggesting that the X2 could be closely related to the Mini Paceman. In that case, the next generation X1 and X2 would be FWD cars.
Simply downsizing the X4 to create the X2 would seriously limit X2's practicality due to non existent rear head room, so BMW reportedly conceives X2 as a Sports Activity Vehicle with a slightly low roof line rather than a Sports Activity Coupe like the X4 and X6.
The compact crossover coupe could have both 3- and 5-door versions.
A new car from any of the German bigwigs is always a thing to cheer for, but are they over populating their portfolio with too many permutations and combinations?
[Source: Bimmerfile.com and Auto-motor-und-sport.de]