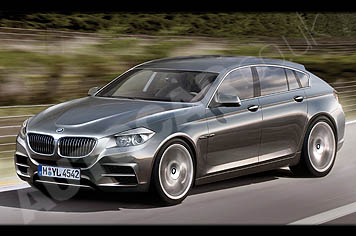 German car manufacturer BMW will soon launch the hatchback version of its popular 5 Series luxury saloon. The executive hatchback will be called BMW 5-series GT.
The BMW 5-series GT is expected to be unveiled in late-2009. A senior company source has revealed that the 5-series GT is "one of the bravest designs ever signed off by BMW". However, insiders describe the car as a 'modern grand tourer with a luxury cabin and interior flexibility'. Well, if the 6 series can do that, then this will also do the same? Well, let's just hope that the model does not turn out to be a disaster. One thing is for sure, being a BMW, expect the BMW 5-series GT with pin sharp dynamics.
The BMW 5-series GT could be priced between the BMW 5-series and BMW 7-series and pitched at drivers who like a higher driving position but are not keen on a full-scale SUV. It would be more like a crossover than a hatchback.Those who have seen the 5-series GT in the metal describe it as more of a 'tall 7-series hatchback than a low-rise X6'.
The car is basically based on the latest version of BMW's large rear-drive platform which was first seen under the recently launched BMW 7-series. What BMW needs to do is a coupe to compete with the Mercedes CLS and the upcoming Audi A7 coupe.
Some sources have also revealed that its tailgate works similar to new Skoda Superb (which is launching in India next month) which means the boot can be opened in both the styles, as a saloon and as a notchback.Tech specs have not been revealed yet but expect the turbo petrols and diesels to meet the latest Euro standards.