Yet another product that has taken BMW's LCI program is the 5 Series. It was under testing since last year and countless spy shots were floating on the internet.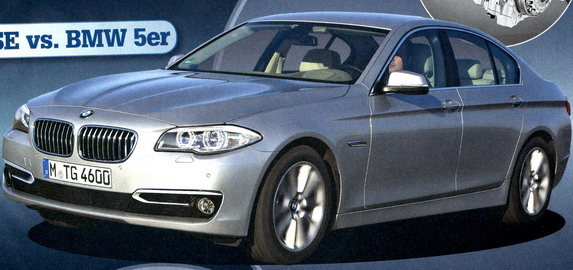 We even got you a completely uncamouflaged test mule from China. But there was a good chance that the facelift could have been for the Chinese market only. It is NOT!
German magazine Auto Zeitung has printed the facelifted 5 Series on their cover page and we have a scan of it now thanks to Auto.blog.rs. As one can see, it is exactly like the model that was caught in China.
The BMW 5 Series (F10) model was launched three and a half years ago and is ready for a LCI (Life Cycle Impulse) update. The facelift includes a restyled front bumper with chrome elements, redesigned headlamps, optional adaptive LED lights and new front fog lights. It will also include a new exhaust pipe, new alloy wheels, refreshed interior, new Connected Drive features.
[The spyshots that came in from China are not of a region-specific variant]
No major changes have been done to the mechanicals, it is powered by the same engine lineup mated to the same 8-speed gearbox. This 5 Series facelift will be available in the same Modern, Luxury, Sportline levels.
The BMW 5 Series facelift debuts at the 2013 Shanghai Motor Show and production will begin in July. The facelift updates will eventually trickle down to the Touring and Gran Turismo models too.
[Source: autozeitung.de via Auto.blog.rs and auto.163.com]