In the BMW stable, the sedans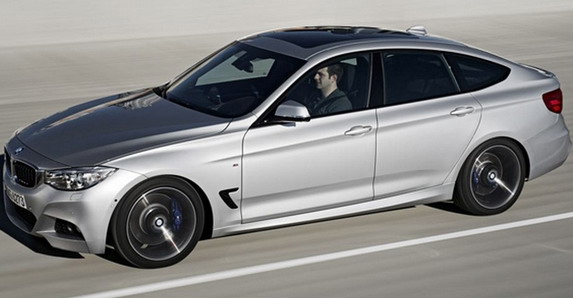 are named using 'Series', SUVs are identified with the prefix 'X', performance variants are named 'M' and station wagons are called 'Touring'.
Then there is a unique niche between a sedan and touring variant called Gran Turismo (GT).
Essentially, they are like a hatchback version of the sedan that offer the same practicality of a station wagon but with a compact exterior (it's very confusing, don't ask us to explain).
Ever since BMW launched the new 3 Series (F30), the Bavarian automaker has been busy launching its various bodystyles and variants. We saw the LWB model and the Touring variant, and now it is time to get a glimpse of the GT version of the 3 Series, but just a small glimpse.
This will be the first GT model in the 3 Series family. Earlier, only the 5 Series was available in a GT avatar.
With the 3 Series GT (codenamed F34), BMW wants to offer a more premium and yet practical variant 3 Series to appeal to family car buyers. It is expected to get the same two-piece tailgate like the 5 Series GT. It will share its engines with rest of the 3-Series family. Rear- and all-wheel drive will be offered.
It is will to compete with Acura TSX Sport Wagon, Audi A6 Allroad and Honda Accord Crosstour. It should bow at the 2013 Geneva Motor Show in March.
BMW India didn't take the 5 Series GT all that seriously, they still bring it down as a CBU, and don't spend on marketing. A rather portly design and a high price tag ensured that usual 5 Series did not get hassled. Perhaps, we will see the return of the GT badge to the Indian shores with the 3 Series GT.
[Source: worldscoop.forumpro.fr via carscoop.blogspot.in]