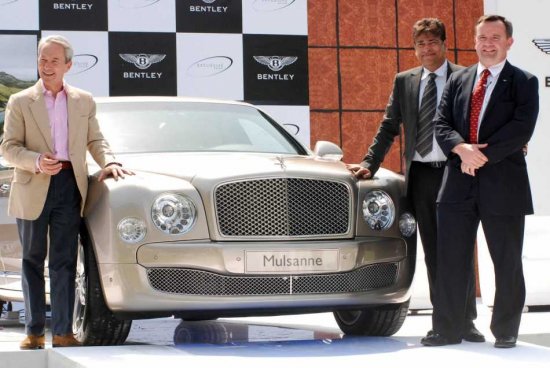 The 3 crore rupee Bentley Mulsanne is synonymous with exclusivity and richness
Thanks to autoholiks, we're able to bring you a report on the Bentley Mulsanne's Indian launch.
The expensive vehicle was unveiled by Sir Richard Stag, Britain's high commissioner to India and Chris Buxtonm, Bentley's regional director in an event hosted at British High Commissioner's residence in New Delhi.
The Bentley Mulsanne is the first Bentley after a long gap to have been built from scratch.
Chris Buxtonm, Britain's high commissioner to India -
I think our expectations with Mulsanne has always been very strong. We don't see the sales of the car but wait for its demand in the market. The moment I think would be strong we would probably be sold out, by the end of 2011. I think we have taken some interested parties, I showed some Indian customers the car last year. This market is a very strong market for our cars and it goes back to 1911 when we came into the market. So as I said there are about 700 big car drivers in India today.
Production of the Bentley Mulsanne will begin at the company's facility in England during the second quarter of this year. Production here needs to be looked at from a exclusive car builder's perspective.
Each Bentley Mulsanne takes two months at least to be completed. Customers can choose from a choice of 114 paint colors, 21 carpet colors, nine wood veneers and 24 interior leather hide!
Bentley Mulsanne – Technical Specification Summary
Engine
Type: Twin-turbocharged V8
Installation: Front, longitudinal, rear-wheel drive
Construction: Alloy heads and block
Capacity: 6750cc
Power: 512PS / 505bhp / 377kW at 4200 rev/min
Torque: 1020Nm / 752 lb ft at 1750 rev/min
Performance & Economy
0-60 mph in 5.1 secs (0-100 km/h in 5.3s)
0-100 mph in 11.6 secs (0-160 km/h in 11.5s)
Max Speed: 184 mph (296 km/h)
Economy: 16.7 mpg (16.9 l/100km) Combined EU Cycle (figures are provisional and subject to Type Approval)
US EPA Cycle (fuel consumption figures will be advised following Certification)
CO2 emission: 393 g/km (figure is provisional and subject to Type Approval)
Transmission
Type: Rear-wheel-drive
Gearbox: ZF 8-Speed automatic
Body & Chassis
Length: 5575mm (219.49in)
Width (mirrors folded): 1926mm (75.80in)
Height: 1521mm (59.88in)
Wheelbase: 3266mm (128.60in)
Front Track: 1615mm (63.58in)
Rear Track: 1652mm (65.03in)
Wheels / tyres (standard): 9J x 20in. with 265/45 ZR 20 tyres
(option): 9J x 21in. with 265/40 ZR 21 tyres
Kerb weight: 2585 kg (5700 lb)
Bentley Mulsanne – Standard Feature Specification
Drivetrain
6.75 litre twin-turbocharged V8
512PS / 505bhp / 377kW at 4200 rev/min
1020 Nm/752lbs ft at 1750 rev/min
Cam phasing and variable displacement – a first for the ultra-luxury sector
EU5 and LEVII emissions compliant
8-speed automatic transmission with electronic shift interface, sport mode and steering-wheel mounted paddleshift
Bentley Mulsanne Image Slideshow
can't see anything above? visit the Bentley Mulsanne Image Gallery directly
Source - Autoholiks