All-new 6L W12 engine powers the Bentayga.
Ahead of its debut at the Frankfurt Motor Show next week, VW-owned luxury car maker Bentley has revealed its first SUV, the Bentayga, which it refers to as the "fastest, most powerful, most luxurious and most exclusive SUV in the world".
[Head to YouTube if you're unable to view the video above.]
Underneath its four LED headlights, glass roof and 20-inch alloy wheels (optional 22-inch), the Bentayga features a body made from aluminium, which has helped engineers shave off 236 kg compared to a steel body.
Made in Crewe, UK, the Bentayga's interior is crafted with wood, metal and leather, which Bentley claims is the finest automobile interior in the world. Available in four- and five-seat configurations, the Bentayga features 22-way adjustable front seats with heating, ventilation and massage system, 18-way adjustable rear seats and a choice of 15 color options for the leather trims.
[Head to YouTube if you're unable to view the video above.]
For infotainment, the Bentayga relies on an 8-inch touchscreen system on the dashboard which supports 30 languages and has an in-built 60 GB hard drive. For occupants at the rear, a 10.2-inch Android tablet with 4G, WiFi and Bluetooth is available. While the sound system can be chosen among three options, the top-end system features 1,950 watts with 18 speakers and 'super-tweeters', capable of recreating the "highest audio frequencies", says Bentley.
Coming to the part where the company calls it the fastest SUV in the world, the Bentayga sources power from an all-new 6.0-liter W12 twin-turbocharged engine capable of delivering 608 PS and 900 Nm of torque to all wheels via an 8-speed transmission. The Bentayga outpaces the most powerful AMG SUVs, and even the Range Rover Sport SVR, with 0-100 km/h taking only 4.1 seconds and a top-speed of 301 km/h.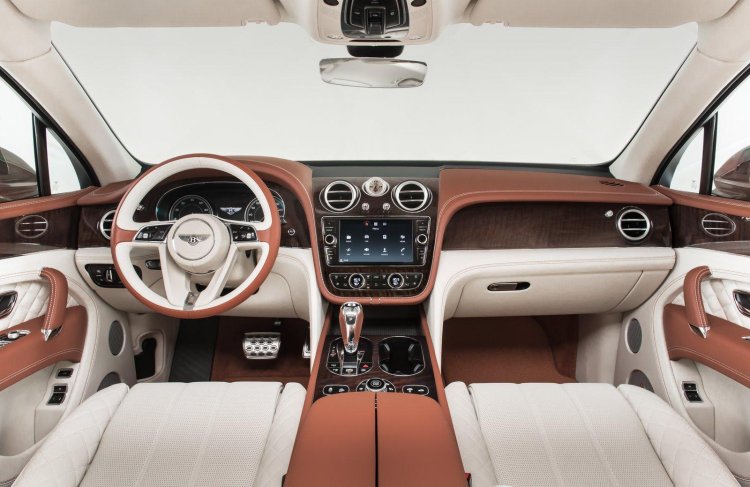 Technologies here include cylinder deactivation, automatic coasting, and a start-stop system. The Bentayga will also be available with a diesel and a hybrid powertain in the future.
With Bentley's Drive Dynamics mode and an optional Responsive off-road setting, the Bentayga features 8 driving modes which are accessible to the driver via a dial.
Further details are in the press release below the gallery.
Bentley Bentayga - Press Release
[Head to Slideshare if you're unable to view the document above.]