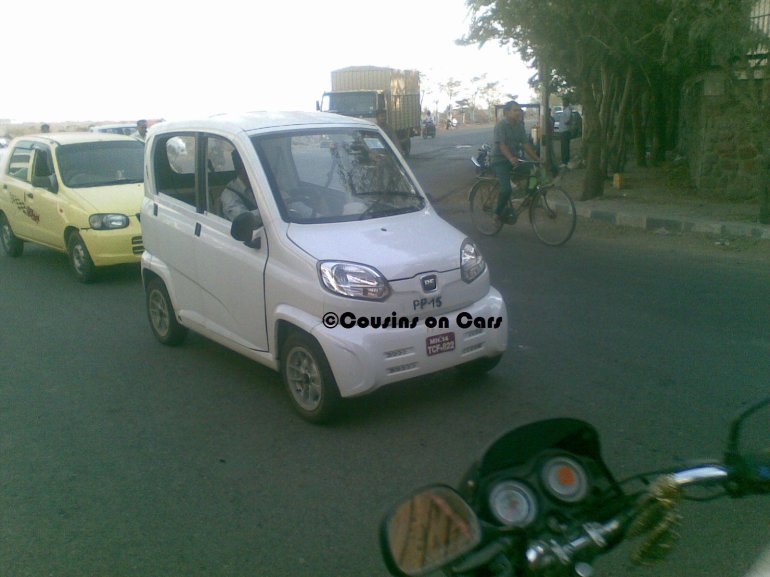 The Bajaj RE60, arguably the first quadricyle of India is continuing on what appears to be the final phase of testing.
The test mule of the RE60 was spotted by the guys at the Facebook page named Cousins on Cars. The quadricycle looks diminutive when compared to the Maruti Alto which is also in the frame, suggesting that the vehicle could be handy in the bumper to bumper city traffic.
Bajaj has developed the RE60 completely in-house without any inputs from Renault-Nissan who are reportedly interested in the car to play the entry-level Datsun. However, the information regarding Renault-Nissan's partnership with Bajaj remains sketchy and unpredictable.
According to Bajaj, the RE60 was not aimed at the Tata Nano but was conceived as an upgrade for the three wheeled auto rickshaws, million of which have been sold since their inception throughout the world. The quadricyle, hence sits between a rickshaw and a full fledged car making it strictly an urban runabout. A private version, as suggested by this spyshot, is also in the making.
The RE60 gets its motive power form a 20hp 200cc DTS-i engine which is mounted at the rear. RE stands for Rear Engined and 60 represents the amount of CO2 emitted (in grams) per kilometer. The vehicle can reach a top speed of 70 kmph.
The Bajaj RE60's price depends on whether the government of India decides to implement the quadricycle policy.
[Image: Cars on Cousin's Facebook page ]