Most popular car is the Hyundai i10.
Droom, an Indian online marketplace with over 4,000 used vehicles listed with a total of 9,000 sellers, has released a industry report for Q2 2015, which reveals data on the vehicle buying trends of the average Indian customer lately.
According to Droom, the most popular automobile (and bike) online was the Bajaj Pulsar, while the most popular used scooter online was, unsurprisingly, the Honda Activa. In the super bike category, it is KTM RC series that's most popular among online buyers. In the Indian market, commuter bike sales have accounted for 45 percent of market share, while super bikes grab another 10 percent.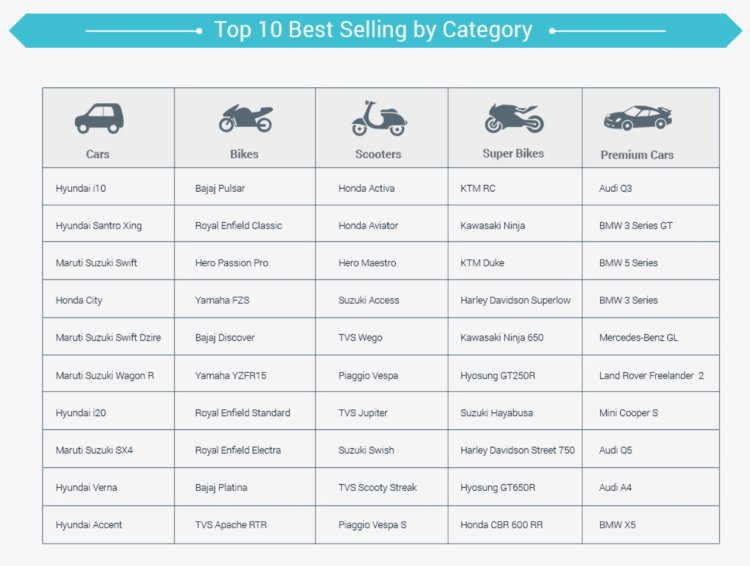 In the car market, it's not the Maruti Swift, but Hyundai's i10 that is the most popular car in the online used market, followed by its smaller brother, the Hyundai Santro Xing. The Swift, however, comes in at third. The most popular luxury car is the Audi Q3, while the most expensive listed online is the Lamborghini Aventador (INR 4.5 crores). Normal car sales constitute 41 percent of the market share, while luxury cars account for just 4 percent.
Another interesting data in the report states that a small majority of Indian customers prefer buying cars of Indian origin, and that 92 percent of customers prefer going for a manual gearbox, whereas the rest 8 percent look for automatic transmission.
For more information and interesting data, peruse the full report below.
Droom's Quarterly Report on automobile buying trends online - Full Report
[Slideshare Link]