Words - Karan Mathur
Introduction
If you look at Audi's Indian line-up, you'll find four models under the 'brat pack' tag. It starts with a relatively sedate four-door, hard-top which is known as the A5 Sportback; sitting next to it is an equally sedate but classy two-door convertible called the A5 Cabriolet. Moving on, if you're of the firm belief that if everything seems under control, then you aren't going fast enough, Audi offers you the hair-raising, butt-clenching S5 Sportback with a 2.9-litre turbocharged V6 petrol making 350bhp and 500Nm of torque. Still not satisfied? Well, the final member of the pack can do one better. Ladies and gentlemen, say hello to the RS5 Coupe. It not only adds 100bhp and 100Nm of torque to the mix, it is lighter and more nimble. However, everything that's holy in world of performance machines comes at a price. And in this case, it is literally so. The Audi RS5 Coupe costs a whopping INR 1.11 crore and yes, you read that right. Let that sink in, while we investigate what it has to offer to justify a price like that.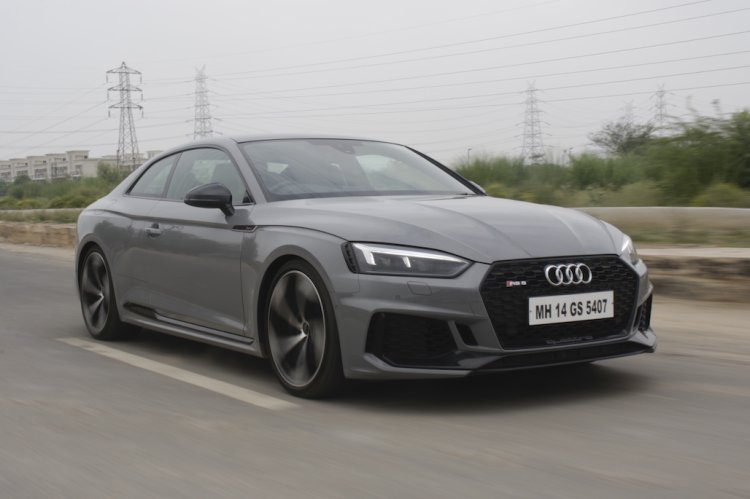 Exterior Design
It is a given that Audi has aimed the car squarely at the younger, affluent buyers that lurk within the large metropolises of the country. Now, if you're going to buy a car that costs well over the price of a decent-sized house, you want it to stand out and the Audi RS5 does that well. Even in a rather sleeper-looking Daytona Grey, the car always pulled heads everywhere I took it. While it is definitely distinct compared to the S5, I do feel that it isn't as loud as the brash, in-your-face characters of the M4 or C63 AMG. This also means fewer crowds at every petrol pump and less hormonal lunatics speeding alongside you in an attempt to keep up. Yet, it still manages to look as good as it does, thanks to the umpteen design and performance modifications over the regular A5.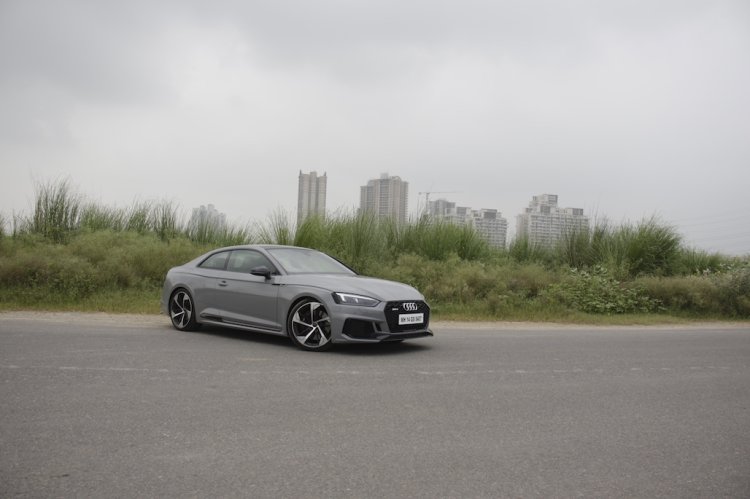 At the front, you get a blacked-out honeycomb-style grille with RS badging. Below that, you'll find a front skirt with Quattro lettering plastered in the middle. That's also the first hint you'll get of its performance credentials. The headlining feature on its side profile are those beautiful diamond-cut 20-inch alloy wheels which should be your second sign to mentally prepare yourself for its performance potential. Step to the back and despite the RS badge, you'll know it means business. A lip spoiler, faux air ducts and a diffuser do their bit in spicing up the derriere. What you should really focus on here are those large, oval dual exhaust pipes and they should be your final clue. After this, you strap up and hold on.
Interior
Before we get to that pulsating twin-turbo V6 under the hood, let me quickly run you through the interior. Distinctive touches inside are rather lacking as compared to the exterior. The overall design and ambience remains largely similar to the regular A5, barring some minor touches. These include RS-badged flat-bottom steering and firmer, better padded sports seats which also carry the RS badge.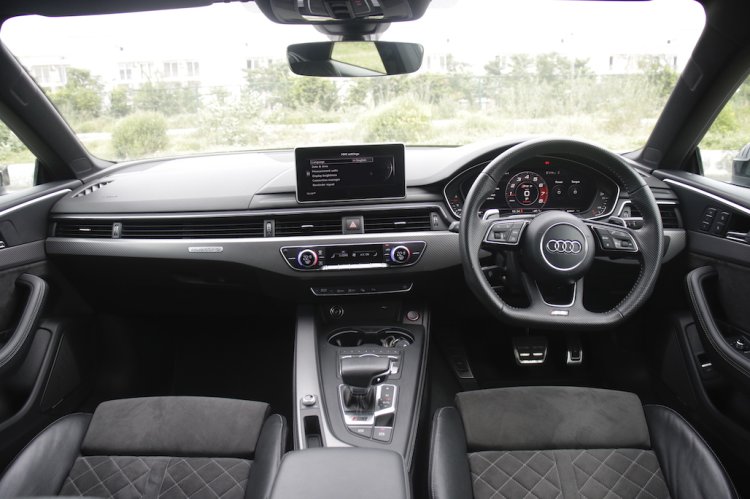 Other than that, you get features like MMI navigation with touch-sensitive interface, Audi Smartphone Interface and the Audi Virtual Cockpit system consisting of an 8.3-inch infotainment system and a fully-digital instrument cluster. As for space, the Audi RS5 comes in a 2+2 seating layout. You do get two proper seats at the back but those work best for kids and short adults.
Engine & Transmission
This is where it all makes sense and herein lies the RS5's biggest strength. The previous generation RS5 got a 4.2-litre V8 and in its latest iteration, the new RS5 trades that in for a lighter, more compact 2.9-litre twin-turbo V6. While it may get the same motor as the S5 Sportback, in this case, power figures stand at 444bhp and 600Nm of torque thanks to a second turbocharger. While it may be down on power as compared to the V8, the name of the game is torque. All of which is available at the twitch of your right foot, from as low as 1,900rpm onwards and is available throughout a very wide spectrum of the rpm range.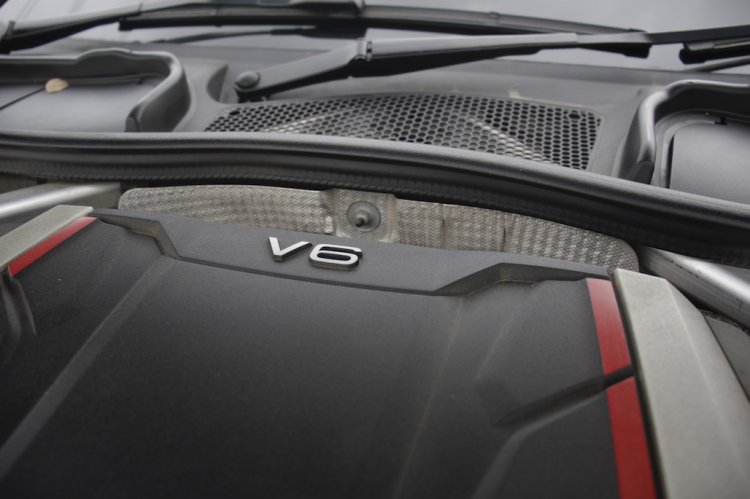 What this means is that the Audi RS5 Coupe can get off the line like a stabbed rat and race its way all the way to 100kmph in a company-claimed 3.5 seconds, chugging along further at an effortless pace and on to an electronically-limited top speed of 280kmph. The car is effortless to drive fast and triple-digit speeds can easily, and dangerously, become second-nature. While this twin-turbo might be seriously quick, the new-gen RS5 Coupe has lost some of its aural character when it gave up the old V8. That's not to say it doesn't sound good, the V6 wails its own sweet tune, just not as aggressively as its predecessor. Gone is the naturally-aspirated growl, traded in for a forced-inducted whirr from the motor. However, thanks to the optional sports exhaust on our test vehicle, putting the car into Dynamic driving mode also opens up butterfly valves in the exhaust to make it louder. In our case, that's the setting we had it on for the entire duration of our test. Getting to the gearbox, the RS5 replaces the old 7-speed dual-clutch unit for a conventional 8-speed automatic. While some may doubt Audi's choice given the performance benefits of a DCT but once you drive it, you'll know why. The 8-speed Auto in Comfort mode is smooth, perfectly suited to the easy-to-use power from the engine and if you feel frisky enough, shifting into Dynamic mode will help shift cogs faster and hold gears longer without any sort of fuss.
Performance & Handling
The new Audi RS5 weighs in at 1,770kg on the scale. That figure is not only less than the old model but is also lighter than the S5 Sportback. Comparatively, the RS5 Coupe is shorter in length, wheelbase and even sits lower thanks to a sportier suspension. Add all that to a rear-biased all-wheel-drive system with a torque-vectoring limited-slip differential and what you get is a recipe for a smile that will need surgery to fix. The new V6 twin-turbo is even lighter than the previous-gen's V8, helping the new RS5 feel lighter to steer and significantly quicker in turn-ins. Another benefit from a lighter front-end, torque-vectoring LSD and a Quattro system that can send up to 70 per cent of the power to the rear wheels, is the lack of understeer. Point this thing into a corner and the Audi RS5 obeys with absolutely no hesitation and drama.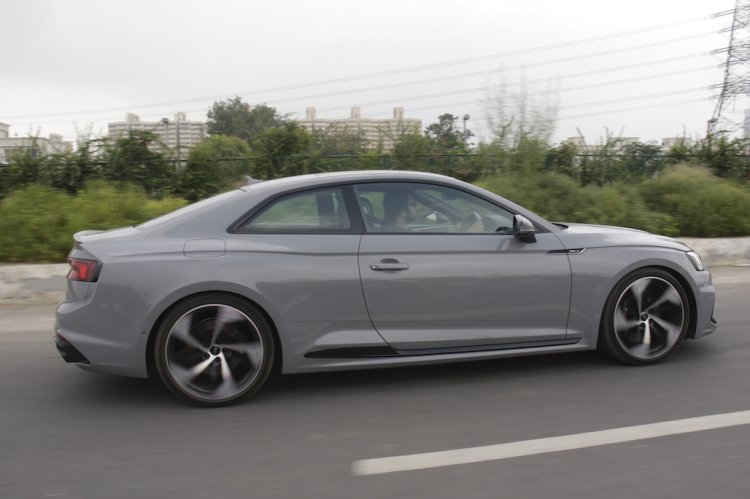 As easy it is for the engine to build up speed, the car's suspension does an equally good job of keeping everything in order. Steer into a corner and despite the heft, it has plenty of grip to offer thanks to a superbly balanced chassis. Push it too hard though and the tyres squeal first in despair, with a hint of understeer following right after. For the most part, though, the RS5 is a very keen handler and definitely has more potential than the skill set of its average customer base. However, despite all its handling prowess, the RS5 definitely surprised us with how comfortable it actually was to drive.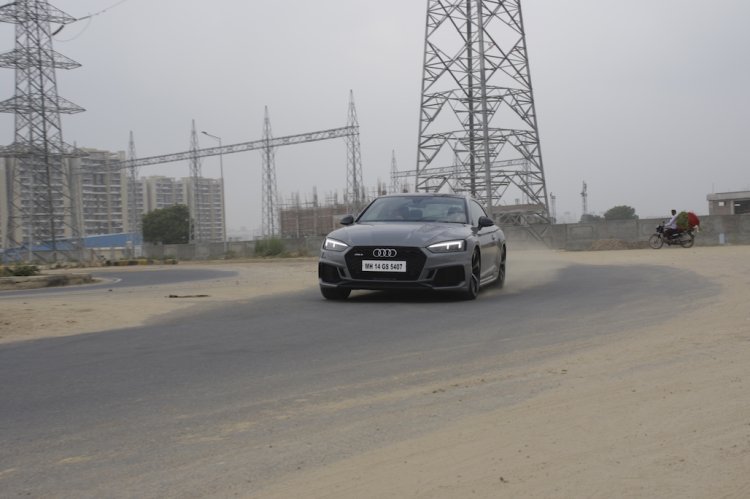 Yes, things did get a bit jarring on really bad roads but overall, the RS5 is a very manageable car to drive on an everyday basis. The only gripe I had was with its variable-ratio Dynamic Steering option. While the electronic steering does weigh up nicely in Dynamic mode, put steering setting into Comfort or Auto and things become unpredictable. The steering keeps varying ratios depending on speed and in a country like India, where every kilometre brings new obstacles to avoid, you end up being the one who has to adapt your driving style to match steering input. This little niggle just might end up getting under the skin of some.
Verdict
So, let's take a step back and sum up what the Audi RS5 Coupe has to offer. It's a sports car with looks to kill, an engine to match and the handling to set all your pants on fire. However, no matter how much I admire it and no matter how much I drive it, there is still no escaping that whopping INR 1.11 crore price tag I have to pay to acquire it. To put that into perspective, I can buy the 'milder' S5 Sportback and an Audi A4 or Q3 as a daily driver for that amount.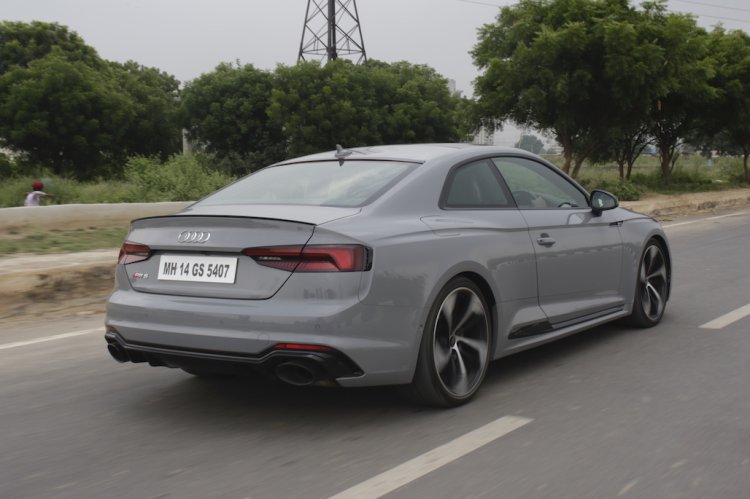 Is the Audi RS5 worth that extra premium I have to pay? Yes, Audi doesn't offer the S5 Coupe in India if I just want two doors and yes, I do get significantly more power in comparison. But the S5 Sportback is equally capable and more practical, while a race track is the only place in India I can truly unleash the full potential of the RS5. So in short, our answer would have to be no. If you want a fast A5, get yourself an S5 Sportback and save a whole heap of money in the process.