To be revealed officially at the 2015 Geneva Motor Show.
Ahead of its unveil at the 2015 Geneva Motor Show, the 2016 Audi R8 has been spotted completely undisguised, leaving nothing to the imagination.
Straight off the bat, it is clear that the next R8's design draws heavy influence from both the Quattro and Nanuk concepts. The front is characterized by Audi's 6-point grille and large air intakes placed right below the redesigned headlamps. Its lines are almost identical to the outgoing model, and will ditch the side blade in favor of a conventional air scoop.
The 2016 Audi R8 will be based on the new Lamborghini Huracan's underpinnings, which is both lighter and stiffer thanks to the carbon fiber and aluminum construction of the underlying chassis.
Engine options for the 2016 Audi R8 have not be revealed, although reports speculate that it will still be offered with a V8 as well as a revised version of the 5.2-liter V10 engine that could produce more power than the 550 hp R8 V10 Plus, but less than the 601 hp Lamborghini Huracan.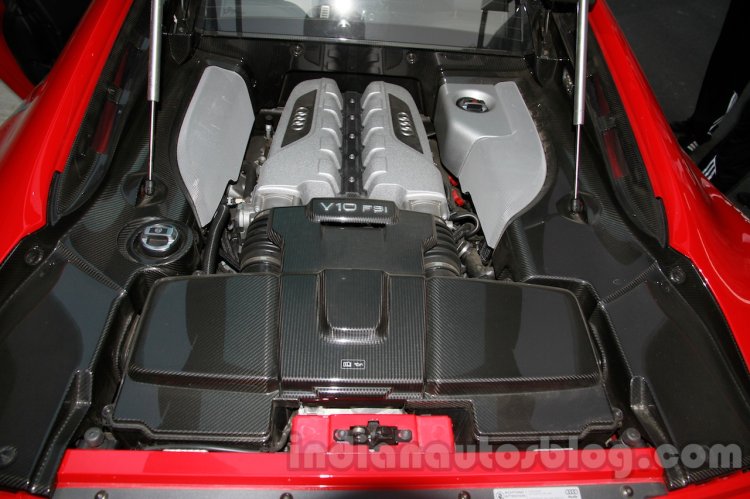 Audi might also offer a TDI variant of the R8 in 2017, which could be powered by a 4.0-liter turbo-diesel V8, or an even more exotic 5.0-liter V10 TDI, which Audi is developing for Bentley.
Also Read: 2016 Audi A4 sedan (India-bound) to feature more aggressive design
Reports suggest that the next R8 won't be offered with a manual transmission option, and will only come with a revised 7-speed double clutch automatic gearbox. As on all high performance Audis, it will transfer torque via the Quattro all-wheel-drive system.
Expect the new R8 to launch in Europe later this year, while an arrival in India may not be expected before 2016.
Competitors: Porsche 911, Ferrari 458 Italia
Expected Price: INR 1.7 Crores upwards
Launch date: 2015 in Europe
2015 Audi R8 Competition - Image Gallery (Unrelated)
Audi Nanuk Concept - Image Gallery (unrelated)