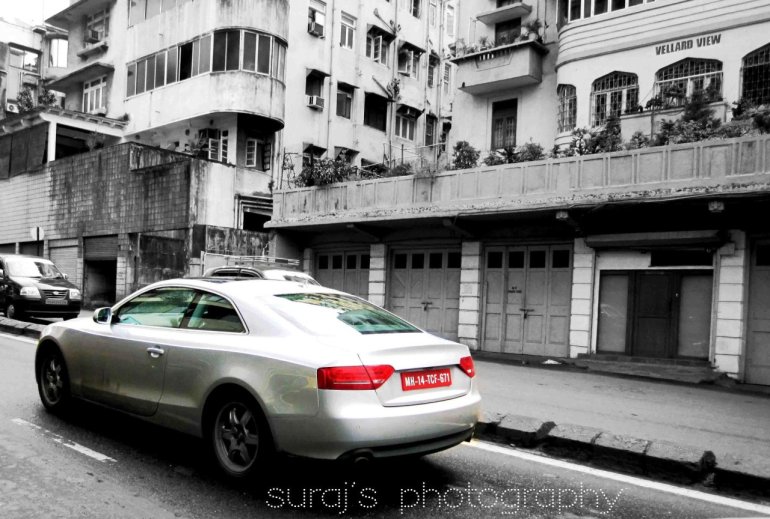 After the launch of the intense RS5, Audi India is not going easy on the brand-shapers. It wants to add a bit more of practicality into some of its track-honed products.
In 2011, the approach has been top-down for Audi India. It started the year with an expensive R8 variant, followed it up with the A7 and RS5, then the A8 and recently unleashed the A6 sedan.
The next few launches will then be a mix of low priced vehicles and bottom-end variants. The all-new Q3 and the A4 facelift are two ready examples.
What could join these two is the 2-door A5 coupe model seen testing in India. From the outside there's not much to differentiate the A5 and the red-hot RS5. The rear diffuser, flashy alloy wheels and the rear spoiler are noticeably absent on the test mule spotted by supercar chaser Suraj Arumugam. The RS5 also features larger exhaust tips.
As far as the positioning is concerned, the name gives it away - it sits between the A4 and A6 and could come in the CBU form making that non-applicable to India. To make a clear differentiation between the A5 and A6, Audi India might not offer the 5-door liftback variant.
As it is a 2-door model demand will understandably not be more than the A6. It can hence adopt the CBU route. Mind you, all these are speculative conclusions as we have no official word from Audi.
Audi A5 Engine options internationally
1.8L I4 Turbo FSI
2.0L I4 Turbo FSI
3.2L V6 FSI
4.2L V8 FSI
2.7L V6 TDI
3.0L V6 TDI
Audi A5 Tranmission choices internationally
6-speed manual,
6-speed Tiptronic automatic
7-speed S tronic automatic
8-speed Multitronic automatic
Now we wait for Audi India to comment on the A5's Indian journey.
[Source - Facebook.com]